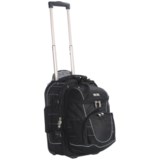 Closeouts. Versatility meets durability with High Sierra's A.T. Gear rolling backpack. Roll it through airports, carry it like a backpack to your hotel and when you're ready to hit the street, zip off the comfortable daypack.
Average Rating based on
35
reviews
4.228571
0
5
Verified Buyer

Reviewed by Alex from Austria on Wednesday, February 17, 2016

Perfect backpack while traveling Europe

Verified Buyer

Reviewed by NorCal Shopper from California on Saturday, February 13, 2016

Just used this luggage last weekend to Solvang, CA. It was perfect! Loved that I had the day pack to zip off the front. Handle seems sturdy and so do the wheels. Can't wait to use it on my trip to Vegas!

Verified Buyer

Reviewed by John from WI - Wisconsin on Monday, February 8, 2016

Although somewhat smaller than most carryon bags, it will better meet the new carryon requirements being mentioned by the airline industry -- and it offers great flexibility with the zip-off backpack. Seems well made, with substantial zippers and solid materials. Hoping for years of service, as I've had with other High Sierra products.

Verified Buyer

Reviewed by Craig from Victoria, BC on Tuesday, March 17, 2015

The extendable handle began acting up on the first trip and became useless before we even got home. I was thinking about getting a second one but doubt it now....hopefully it will be fixed under warranty.

Verified Buyer

Reviewed by Craig from Victoria, BC on Tuesday, March 17, 2015

The extendable handle began acting up on the first trip and became useless before we even got home. I was thinking about getting a second one but doubt it now....hopefully it will be fixed under warranty.

Reviewed by Sonya from Louisiana on Sunday, February 22, 2015

I've had this backpack for about 12 years now, and it is still going strong. I don't know if they still make them with the same quality today, but mine did thousands of miles of traveling. I mostly use small daypack separately as a backpack, and rolling part as a carry-on. Yes, carry-on does not hold as much as a regular 21", but enough for a few days trip. Both rolling part and daypack together definitely hold as much as a regular carry-on. Considering that I was using it as a roll-on through countless airports over the years, the wheels are still almost like new and fully functional. The handle works great after so many years. Daypack, even when fully packed, can easily fits underneath the plane seat, so you can keep it close during long overseas flights. All the zippers are still fully functional. Actual material is very durable and resistant to airports!

It might be a little cumbersome if you want to re-attach daypack to the carry-on in a hurry, but other than that it is a great and versatile piece of luggage. You really get 2-for-1 with this. If the quality is still the same as it was when I bought it, I would buy it again. But I don't think that I will need to, because the one I have just won't quit!

Verified Buyer

Reviewed by Maksie's Mommy from Bay Area, cA on Saturday, January 31, 2015

I like to travel light (there is nothing worse than looking or feeling like a pack mule in an airport). I think this bag is going to work out well. I'm taking a trip this year, where they prefer you only take a carry on. This appealed to me as the daypack can come off. it's a good sized day pack. I will use the daypack part instead of a handbag. Zippers are nice and heavy. there are adjustments where you can somewhat modify the size by how much you have packed in size. It can be used as a roll around or backpack. Good value.

Verified Buyer

Reviewed by dee from ohio on Sunday, January 4, 2015

I bought this for traveling. It is well built and a great value for the price. It looks like it will hold up quite well. I'm very pleased with this purchase.

Verified Buyer

Reviewed by morepacksthanpurses from Atlanta on Sunday, December 28, 2014

Great quality zippers, wheels, durability, concept. The main case has no interior pockets, but provides essential space. The zippers and clips that hold the day-pack to the main bag are strong. Unfortunately, the bottom of the day-pack is angled up toward the front so when you set it down it rolls forward onto its front face, even with two full, steel, vacuum-sealed travel cups in the bottle-holder pockets. That's a deal breaker. It does hold a 16oz Contigo AUTOSEAL nicely and a 16oz Thermos Travel Tumbler adequately, though. Also, the top-load zipper to the day-pack is slightly limiting in that it stops, on each side, an inch from the back of the pack resulting in less than total access, i.e.: the bag will hold items wider than will fit in through the top. The snug trim around the front pocket makes it a bit difficult to open unless kept folded back, which exposes a light colored border. The zippers tags are metal noisy, jangly (people will hear you coming) but I was going to simply put electrical tape over them. This pack would simply not suffice for my only pack on a short trip. I could work with everything except the pack laying on its face every time I set it down.

Verified Buyer

Reviewed by JT from Washington on Tuesday, November 11, 2014

High Sierra products are well made, this backpack is no exception. Especially like the removable day pack which is helpful when traveling. On a plane, it can be detached from the main unit and kept at your seat for essentials while the rest of the pack goes up above. Lots of pockets make organizing stuff easy. Pleased with the purchase.

Verified Buyer

Reviewed by Myra from Phoenix, AZ on Tuesday, August 19, 2014

This is really a must have bag... it has wheels and if you don't want to have to check in luggage and are travelling rather lightly, this is really a great bag. It has a bigger section where you can pack clothing changes, etc. and it has a day pack section which you can use during the day and leave the big section at the hotel. I'm pretty sure it will fit under the seat in front of you on an airplane (I know this because I have had one very similar to this bag that I have used for the last 20 years)

Verified Buyer

Reviewed by Desert rat Jim from Utah on Thursday, August 14, 2014

Great packing option for air & ground travel. Daypack unzips from roller to keep daypack handy during flights while roller goes in overhead bin. The zippers can be a little difficult at first. I didn't think I would need the shoulder straps on the roller, but the came in handy for hauling everything together across uneven ground. Overall, a good value.

Verified Buyer

Reviewed by Retired exporers from Little Compton, RI on Saturday, July 26, 2014

We are planning a trip to Europe and we purchased two Rolling Backpacks. We are following Rick Steven's advise and packing light and using a good quality backpack. We have not used this item yet. It looks great and very high quality. We feel confident that we made the right purchase.


Verified Buyer

Reviewed by Linda from Texas on Thursday, July 17, 2014

Bought it for a carry-on for two people. Absolutely perfect size and weight. LOVE the zip off backpack.

Verified Buyer

Reviewed by Knytling from Virginia on Tuesday, July 8, 2014

Just bought this bag and took it on a week-long trip to China. All my clothes fit comfortably and I liked having the daypack.

Verified Buyer

Reviewed by Jessica from Colorado on Monday, June 9, 2014

I really like the size, weight, and functionality of this bag. I was able to carry it on to international flights in two pieces as a carry-on and a personal item and could even fit the large section of the bag underneath a seat in a pinch, allowing me to avoid gate-checking the bag when it would definitely have caused me to miss a connection. Overall it was sturdy, rolled well, was easy to use, and had the extra straps and pockets I needed. The only two things I would change: 1) there is not a convenient storage option for larger electronics that you usually want to have handy like a laptop or ipad. The small removable backpack can accommodate either, but the rounded shape of the top zipper makes it hard to get it in and out of the bag without removing all of the other contents. 2) the removable daypack would be better with a compression strap across the chest.

Reviewed by CoMom from Colorado on Tuesday, April 1, 2014

Have had a year now and several trips with this bag. Yes, it doesn't hold quite as much as a traditional 21" carryon with wheels. However, I manage to cram a lot of clothing in this pack, stuff the zip off front pack with my small laptop, travel docs, glasses, a snack, etc., and then zip it off just as I'm getting on the plane. Rolling pack goes overhead easily, and smaller pack under the seat in front of me. It's a whole lot easier in a crowded plane than traditional size, and everything fits with room to spare overhead and underneath. I have loved being able to roll it all through the airports -rolls smoothly and easily; it can even be pushed in a pinch. Have had no trouble zipping off/on the smaller pack. One must really pack every nook and cranny, and this means the inside is less organized, but I pretty much unpack everywhere I go anyway. It makes my life easier being able to roll my bag. I have had no trouble with the airlines, as zipped apart these two pieces are way undersized for the requirements.

Reviewed by JPinSavannah from Savannah, GA on Thursday, February 13, 2014

I was so excited to get my bag in the mail. I thought this would be the most versatile and useful weekend bag ever. I was hoping for a suitcase that could be carried as a backpack when needed but what I got was a backpack that is being sold as a suitcase. I have several 21" hardcase carry ons so I was expecting this to hold realatively the same amount of luggage. However, it only holds about 3/4ths as much as a standard 21" hardcase carry on. The straps are awkward on both of the packs and I didn't realize until it arrived that the lower front pouch on the day pack is made for a walkman! Yup, that's all that really needs to be said about the design of this suitcase. I plan to return mine.

Reviewed by Tom from Tennessee on Wednesday, December 18, 2013

Perfect solution to a 1 or 2 or 3 day getaway piece of luggage without having to check baggage. Well constructed and rollers are heavy duty.

Reviewed by Lady with spiffy new Pjs from Alaska on Tuesday, November 5, 2013

Had an earlier version of this I relied on for at least 5 yrs. of travel. Ultimately the retractable handle faltered/gave out. Current version appears slightly smaller, though still well made and functional for carry on purposes. Never used the zip on pack that comes as a part of it, though it's a handy add-on.

Reviewed by Cee from Charleston on Friday, September 6, 2013

Bought for trip to Europe. Very light weight. The zippers do seem a little rough and don't move smoothly. It does roll very easily and the detachable backbag was great for day tours. I do wish it was a bit larger.

Reviewed by rustymarquis from WA State on Tuesday, July 30, 2013

Just took this bag on my first trip and I love the size, design, & comfort. Its slightly smaller than I would like - measuring 20.5 inches in length - but I wanted it so I could avoid the awkwardness/clunkiness of larger luggage. My wife & I bought two of these for our trip to Thailand next month and I am confident that they will work out very well. Plus I think they will make excellent travel bags for my children when they get a little older.

Reviewed by ianstuart from Frederick MD on Sunday, June 23, 2013

I bought TWO of the backpack/suitcase bags from High Sierra. The zip on the first one broke the first time I used it and the back of the second one broke before I even got a chance to use it. Moreover, the second one had no way to attack a lock to the zips.

Very badly made and I would warn against buying anything from High Sierra in the future.

Reviewed by Older Happy Traveler from Utah on Monday, June 17, 2013

My carryon bag seemed to weigh 60 pounds by the time I finished a two-week tour recently. I started looking for a wheeled replacement and came upon this bag. I'm traveling right now and have used the day pack every day so far as we explore ayellowstonemand Glacier Parks. Can't wait to pop the whole wheeled unit into an overhead bin!

Reviewed by alohachar from New Jersey on Wednesday, April 10, 2013

My duaghter just used it on a week long trip to Hawaii. Very durable and easy for her to manage. Wished it were a little bigger to hold more for the week's trip but still be able to be used as a carry-on/backpack. Definitely would recommend it.

Reviewed by Capturing Life's Magic from Seattle on Monday, April 8, 2013

I'm an avid photographer with high-end equipment and I'm taking a trip to Europe in September of 2013. I needed a rolling carry-on backpack for my travel essentials and a detachable daypack for my photo gear. This combo has been tried and tested under a variety of circumstances and is just perfect for my trip

Reviewed by CoMom from COlorado on Monday, April 1, 2013

Ordered this as a replacement overseas bag for my Rick Steve's Classic Backdoor Bag. Loved my RS bag, but the older I get, the more difficult it is to carry it fully packed on my back through airports. I'm short, and Rick's bags are pretty long on the back. Even though wheels adds weight, this bag will really make airports easier; plus my hubby won't feel like he has to carry my bag as well as his own. This bag sits well on my back even though it has no waist belt - it's simply not as long as the RS bag. I like the idea of the two joined for airports/long distances and being able to remove the daypack for use on the plane while the bigger bag goes overhead.The larger bag does have a full length zip pocket BOTh outside and inside, but that's it for pockets. Rick's bags have a lot of pockets, which is wonderful, but I plan to use packing cabes inside this rolling backpack too. There are cinch straps inside for clothing, and also on the sides for compressing the larger bag. Alone, the big back will hold quite a bit as a rolling suitcase. Backpack straps tuck away, and have a cover that flaps down to protect you from wheels when it's on your back. Handle is pretty long and wheels seem sturdy. I have not completely zipped off the small bag....note that some users have commented on some difficulty getting them re-attached. Now I just need the trip to go with it.

Reviewed by Boxjeep from Denver of the North (NC) on Saturday, March 30, 2013

Have not used it yet but it ticks all the boxes> Now we can't wait to take it on vacation!

Reviewed by Greytluv from Texas on Sunday, March 24, 2013

Excellent value and quality. Took it on a week trip and was perfect. Great size and easy to handle. The only complaint is I didn't like the opening of the backpack. It's more narrow at the top opening so made it difficult to load larger items. That's more of a preference thing, so doesn't effect my rating. I traveled using the pack separate for handy stuff, phone, iPad, etc. It's not big but worked fine for travel purposes. Bag survived 4 plane changes just fine. Highly recommend.

Reviewed by Romer from Virginia on Friday, March 22, 2013

Enough room for two people's stuff for a week, if they don't mind being grungy. And the detachable daypack is super handy. The zippers are a bit stiff, but I think with use they'll improve.