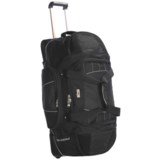 Closeouts. Extremely spacious, versatile and easy-rolling thanks to tuck-away shoulder straps, inline skate wheels and a telescoping handle, High Sierra's A.T. Gear wheeled duffel bag is the perfect choice for long vacations and air travel.
Average Rating based on
22
reviews
4.090909
0
5
Verified Buyer

Reviewed by Cabo Bound from Maryland on Saturday, February 13, 2016

Value for money.

Verified Buyer

Reviewed by Traveler En Route from Brooklyn, NY on Monday, January 25, 2016

This bag is the worst thing I have ordered from Sierra Trading Post in my many years as a customer. DO NOT BUY IT. I bought it for an international trip. On the first leg to CA (without being overstuffed) it tore -- a four inch tear at a seam that cannot be mended in any secure way. I had to buy a new bag in a hurry. Meanwhile it is an ordeal to get a refund from Sierra because I am not home and cannot easily find a box of this size to return this in my two days here and they will not refund the money without the bag, even if I send a picture of the tear. So if it seems like a good price, it's because it's a cheap product, and if I don't get my refund will sadly be the end of my relationship with this company.

Verified Buyer

Reviewed by Jackie from Maryland on Wednesday, January 20, 2016

My son has a High Sierra AT Gear duffel that he drug all over Europe for two summers. He loves it, and I've used his recently and found it to be versatile and convenient, so I ordered this one so we have a second. We haven't used it yet, but it has all of the features we expected and is nice and lightweight. We also like that it is blue and grey - so much easier to identify on a baggage carousel! We hope to verify this review in a month or two once we take a few trips.

Reviewed by Missions/Disaster Worker from Rural Oklahoma on Saturday, November 8, 2014

I've travelled all over the world with this bag, mostly to remote areas of the world working disasters and with medical mission trips to very remote areas, and have owned it for several years, so I have an older version of it. It has been a very good bag with one exception. Some people have mentioned that the handle broke on their bag, but I have not had that problem --- I've experienced the problem of the OTHER end tearing open, because there is NO carry handle on that end, so the baggage handlers at the airports, and while hauling luggage thru jungles and high in the Andes and Himalayas, the handlers grab that end by the edge of the bag, so it eventually tore. The bag was pretty much the perfect size, and usefulness, so I temporarily "repaired" the torn end with ---- yep, you probably guessed it -- DUCT TAPE. That was 2 years ago, and I'm still using the bag. I put duct tape on both sides, then using a slightly warm iron, pressed them so the glue would stick together better. If you have to do this, do not get the iron very hot; that will melt the plastic coating on the tape. Just get the iron mildly warm. I plan to do a better fix by putting a piece of hard resin or plastic on the inside, and put grommets in the end of the bag, then run a small nylon rope thru with knots on the inside of the bag -- this should make a decent handle for that end. Don't know why the manufacturer didn't do that in the first place. Hope this info is of help for some of you all.

Reviewed by Your Average Joe from Massachusetts on Thursday, September 25, 2014

The quality of workmanship in the cloth part of the bag is excellent: it compares well to the LL Bean duffle with wheels that my husband has. The separate compartments are handy for packing and if they not used the center compartment gets the extra space. But, after two trips, involving a plane change, the handle broke. The button used to activate the retractable handle does not press in fully; the handle does not come out. One can feel the problem is on one end of the button and it probably is related to a spring inside. I can pull the bag using the soft fabric handle also attached but it is at an odd angle to my wrist and the arm soon gets tired. The retractable handle is really needed. Will look into returning or exchanging the bag. The bag is of high quality in other parts.

Reviewed by Elena from NYC on Friday, August 8, 2014

I got this for my teen daughter's work trip to Central America last month. The pull-up handle for the wheels broke as soon as she got there, so she had to struggle with the handle or lug it around. Then she used it for a family trip, and hers was the only bag we had to keep stopping to readjust or carry. Annoying.

Reviewed by PacNW Mike from PacNW on Saturday, June 28, 2014

Bought two of these for a 6½ week trip to Scotland. Held up well. Plenty big and reasonably well constructed. Wheels were put to the test on some rough stone streets and held up well. Side and end compartments were handy for dirty shoes and laundry. Zippers are large and seem strong. They do unzip pretty easily so I added hitch pins to all of them so they wouldn't spill contents accidentally. The fabric is NOT water resistant. Leaks like a sieve so keep a garbage bag handy in the side pocket or put stuff in plastic bags that must stay dry. Compresses well when not full so I added a couple of straps. Will not stand on its own and must be leaned up against something but it's a soft bag so understandable. Overall we were pretty happy with these bags and they were a bargain. Don't buy 'em for a rainy climate though. Not going to hold up in a tropical downpour.

Verified Buyer

Reviewed by quackedup from Houston on Wednesday, June 25, 2014

Great size and just right for most trips. Easy to roll and it has shoulder straps bonus!

Verified Buyer

Reviewed by Dave from Dayton on Tuesday, June 10, 2014

Arrived a few days ago, and upon initial inspection looks good! A bit taller and narrower than most large rolling bags, it should be easier to maneuver. The backpack straps seem very well done, reasonably comfortable, and they zip out of the way nicely.

A big main compartment, and a fair number of additional compartments. Seems well built.

I'll let you know more after using it more.

Verified Buyer

Reviewed by Posse Mama from Beautiful Bucks County on Wednesday, April 9, 2014

Great items for everything. Long trip ready, great side compartments, good to go.