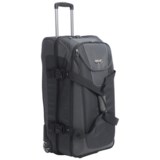 Closeouts. A low weight and large capacity make High Sierra's Grip expandable wheeled duffel bag an unstoppable force of versatility. Multiple ways to carry (including hideaway backpack straps), an expandable lower compartment and dual-level main compartment make packing and traveling a breeze.
Average Rating based on
13
reviews
4.769230
0
5
Reviewed by 1Janne from New England on Wednesday, October 16, 2013

Other than that though, the luggage is exactly what I expected and wanted. I'll be packing light hiking and backpacking clothing and gear and now don't need to worry about how to fit the petrowool in...keeping an eye to weight being packed so it doesn't go over the fifty pounds. The remainder gets carried on in a soft sided duffel which will get place in this large bag on the destination end. I use luggage straps (good ones) to help the zippers task along which works well and will extend the life of this duffel. Not everyone will want or need a bag this size but I can recommend this one to you if you do.

Reviewed by AJ from Minnesota on Monday, September 16, 2013

My wife and I bought a pair of these for our recent trip to Europe. The suitcase is as large as regulations allow, but isn't too heavy, allowing you to load it up fully and stay at the weight limit. The narrow width makes it easy to pull through barriers at escalators in airports and train stations in Europe. Three different zones for separating items , plus the two zippered top pouches, made organizing easy. No complaints carting two of these through multiple train stations and airports in Italy and France. This bag is a great value on closeout!

Reviewed by Terry from Florida on Tuesday, August 20, 2013

Bought this to replace my "traditional" suitcase. It weighs less, hold more, and is much easier to wheel around the airport. Plus, my clothes were less wrinkled as they were stored in various compartments and didn't shift as much. Good size for me as I often carry more than clothes when I travel: yoga mat, food, books, etc.

Reviewed by Cheryl from Maryland on Saturday, July 20, 2013

When I saw the box this bag arrived in, I didn't think it could possibly be my new HIgh Sierra bag - it was so big! When I unpacked it, my assistant laughed, saying she could fit inside it. Once you get over how big it is (cannot be carried onboard), its many features start to grow on you. You could move to another country with this bag, but if you wanted to go camping someplace you had to fly to, it could easily store your tent, sleeping bag and other gear with plenty of room left for clothes, shoes and books. Its light weight is impressive given its large size. Good purchase.

Reviewed by Dave from Midwest on Friday, July 19, 2013

Then teen traveler daughter spotted it and it's gone on a pre-college summer tour. Sierra had a spectacular deal on this. Enough volume to pack for an extended trip. Convenient features. I don't think the backpack harness straps will see much use, but it's an interesting carry option. Appears to be durable, but having my daughter field test it this summer should test it thoroughly

Reviewed by LivinginNash from Asheville, NC on Tuesday, July 16, 2013

My two daughters headed off to sleep-away camp for two weeks, and I was loathe to purchase the standard hard trunks that are hard to move and heavy. They were not excited with these until they arrived and realized how versatile they are and easy to transport with the wheels. We stuffed a lot of things in this bag, including a pillow, a foldable soft chair, tennis racket, shower caddy, etc. The only challenge is that the walls are not so stiff so you have to be careful when it's full and you're dealing with both halves of the duffel. We'll see how it holds up at camp as a "trunk" living out of it for two weeks, but I know this is luggage we'll use again if we do some serious traveling overseas.

Reviewed by STP Shopper from california on Friday, June 28, 2013

The size is incredible and holds everything my wife and I need. Easy to move except it is so big that when full it is heavy. I like big so it fits us great.

Reviewed by Gunny from Thousand Oaks, CA on Thursday, June 27, 2013

Purchased High Sierra large duffle/case to replace broken zippers on my old travel case that was falling apart. I looked at conventional suit cases with cost not the issue but storage practicality as the main criterion. I found this Duffle by High Sierra as the most feature laden with seemingly every thought given to the design allowing portability, storage capacity, separation of storage areas, expansion of storage, and multiple access points of contents without opening entire bag. This bag allows five to six different ways to carry and hold the bag for movement with grips, handles, straps, with quality wheels that allow movement down stairs or uneven surfaces. I took this Duffle on a trip up to the High Sierra's staying at a mountain cabin packing all the clothing and items I needed and I still had room when I returned and found this bag expands with a hidden zipper that adds 3-4" of bag thickness for added capacity. This is the most practicable travel case I have ever used and would highly recommend this Duffle.

Reviewed by Arie from Washington on Tuesday, June 25, 2013

light weight, good size & seemingly sturdy

Reviewed by Doug in Denver from Colorado. on Sunday, June 23, 2013

This is a really functional duffle bag. The construction feels top notch. The features are terrific. But to br fair, I had to return it. I bought it for a week long trip to the Caribbean. It could brobably hold gear and clothes for a couple of months.