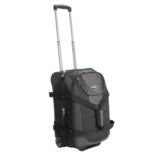 Closeouts. Grab High Sierra's Grip carry-on suitcase and you'll have a firm hold on all of the surprises that come with travel. The versatile carry-on allows you to be flexible while on the go, with hide-away backpack straps for no-hands carry, smooth-rolling wheels for easy airport navigation and a spacious drop-bottom, two-compartment interior.
Average Rating based on
11
reviews
4.272727
0
5
Reviewed by Travel lite from Salt Lake City on Tuesday, September 3, 2013

Nice bag, bought the big one and this one. I ended up returning this one because it was not quite as large as I wanted and did not really accommodate business travel as it has no fold out for suits, dress pants etc. I will be getting a standard roller bag for work trips.

Reviewed by Anonymous from NY, NY on Monday, September 2, 2013

I have the gray 26" bag, and I thought I'd add this to have a small set. Slight difference between the bags. No 3 red stars on the carry-on and a slightly different decal. Barely noticeable though.

Reviewed by Wilder Farm Inn from Waitsfield VT on Thursday, August 29, 2013

We haven't used the luggage yet but are planning a trip to Kenya and this seems lie a very versatile piece. It looks to be very well made with lots of carrying options.

Reviewed by mainer from maine on Wednesday, August 28, 2013

This luggage is advertised as a carry-on, but the size is likely to be too big for the small plans I normally fly on. Otherwise, it seems well made with several compartments.

Reviewed by OldNuzDawg from Kentucky on Tuesday, June 4, 2013

Some years ago, I opted for High Sierra luggage in a large duffel to use since I was going to be spending a month in India and didn't want several heavy suitcases. It did the job perfectly. I could not have been happier. I had one minor issue on my return to the U.S. in that the handle jammed in the "up" position but that was dealt with efficiently.

But that bag was too much bag for weeklong vacations in Florida or to visit my kids in far-flung cities across the US, so I went down a size but got the same bag. Guess what? I'm even happier with this choice as it has been practical, easy to use and has had NO issues of any kind.

So, as I was looking for a bag to replace the 20-year-old carry-on that was beginning to show its age (much like its owner), I went straight to High Sierra. I found the Grip Suitcase in blue, matching my other two pieces, and even found it "on sale". As a matter of fact, I looked at it and decided to sleep on it overnight and the price went down even more.

So, I have three pieces of luggage I purchased from High Sierra and a back-pack that completes the ensemble and I could not be happier. As my bride and I make our way through a happy retirement with a lot of travel plans, I'm delighted I have a range of choices when it comes to packing for the trip and whatever I choose, I know it will be reliable.

Reviewed by BJ from Northern California on Friday, May 31, 2013

Looks good, haven't use it yet. There are lots of features as listed in the description. Only thing I know I'll miss is more and larger outside pockets - this only has one medium small size outside pocket. I like having outside pockets large enough for book, various papers, a small pillow, some meds, etc.

Reviewed by Rachel Bear from Pennsylvania on Tuesday, May 14, 2013

I was looking for a bag to take on business trips and long weekends, and this has an azaming amount of space for such a small outside. There are also some unusual features I like-a double bottom in the cargo space, so things can be divided, compression straps in the inside, a zipper expansion for two additional inches if I buy too much stuff on my trip, inside and outside zip pockets, and the backflap opens up to reveal backpack straps, for situations where wheeling is not the best thing to do. I am pleased at the bargain this bag seems to be.

Reviewed by Fitness Sabe from Maryland on Monday, May 6, 2013

I wanted a sturdy duffle for my many trips to running events across the country. This luggage from High Sierra fits the bill--plenty of room to keep my dirty clothes away from the clean, easy handling for racing through airports, low profile, so I'm not getting a workout wrestling with it. Just a wonderful piece of equipment!

Reviewed by Tink from Vermont on Friday, May 3, 2013

Just arrived, have not used yet, but looks great, as described

Reviewed by LANESN from CT on Friday, May 3, 2013

This carry-on is very well constructed and has a lot of neat features. The only minor problem is that it could use a more centralized handle on the top when the bag is resting on its wheels. The built-in handle is sturdy, but out of balance. The good news is that there are other options for moving the suitcase around, but the provided configuration is annoying.