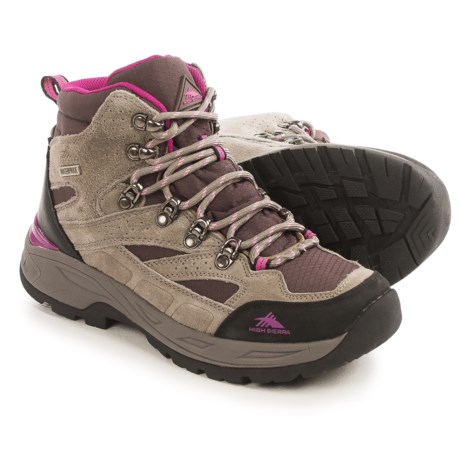 Tough & adorable...like all trail girls.
Reviewed by deenibeeni from Sugarloaf on Wednesday, November 30, 2016
OK, these are just the cuuuutest hiking shoes I've ever seen. I've been buying the really expensive ones -- Vasque, Columbia, Asolo -- but I hike in steep rocky terrain pretty much every day & they last me one season. So I saw these & figured, I'll try them. Certainly can't beat the price, & if they get me through a season, why keep buying the expensive ones?? I got the 8-1/2 & thought hmmm. They are maybe a smidgen short? I compared with my old Vasques & the fit wasn't too different. Also I have very narrow feet (New balance 2A). I wear 8-1/2 in street shoes but a lot of times 9 works better for boots what with SofSoles & socks & my orthotics. I thought, if I get the 9s they are going to be too wide. But I ordered a 9 anyway & kept the 8-1/2 to compare. Wearing them side by side the 8-1/2 is perfect. The 9, just as I thought, are too big, the front of my foot is swimming around, & a lot of that is because of the increased width with 1/2 size bigger. So the 9 is going back & I'm keeping the 8-1/2s. LOVE these. Very comfortable, VERY good lacing system (even my Vasques have only the top lace hooks made out of metal, the second set (which gets maybe more stress than the top one) is fabric & I've had to devise a system to keep them from tearing, which works but has always been a PITA. Also these are NON-MARKING soles, which my Vasques weren't, so I was constantly scrubbing black streaks off the floor. I bought several pair of these High Sierras & plan to take out 1 pair a year. It will take at least that long to find another pair I like as well. SWEET, and an amazing deal.
Most helpful positive reviews
Most helpful negative reviews
Similar items and more information in the following areas: