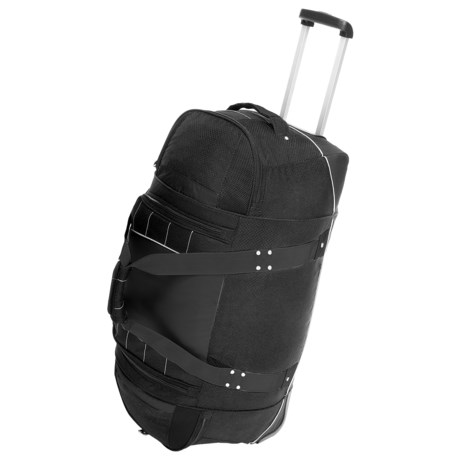 Excellent Bag
Reviewed by MrTwistoff from CO on Wednesday, March 8, 2017
I've used this bag on 7 trips to Europe, it held up quite well. On my last trip the inside seam holding the zipper in place burst. The bag was still intact, lost nothing from it, but it had large open seams on the top side, all along the zipper. If I could have found a place with a repair machine I would have had it fixed in Europe. Instead I bought something just to get me home, and had to leave this bag behind.

I like the compartments in the bag - bottom one great for stuffing laundry into The top one I used for ziploc'ed stuff, socks for packing, a light jacket. middle one to fit clothes into. The small side pocket, good for batteries, cables, paperwork, etc. I like the rolling feature - full rotational wheels would have been nice, but these work and are more low profile. The straps for carrying are handy/sturdy for grabbing off the carousel and the one on the top/end is sturdy enough to carry with also, great for baggage handlers moving it about, and for walking short distances. Backpack straps for walking a few blocks over cobblestones comes in handy in some areas.

If you pack well, you can easily get 2 weeks of stuff into the bag - it's quite spacious, and compartments are "flexible" to sized and shape of material being put in. Even though it's soft-sided, I've packed bottles of olive oil (in cardboard boxes) in the center compartment surrounded by clothes and everything was fine. All my leak-ables go into ziplocs anyway.

Even though it blew out, I'm buying another one, and will reinforce the zipper seam this time. It really held up to a lot of travel very well.
Most helpful positive reviews
Most helpful negative reviews
Similar items and more information in the following areas: