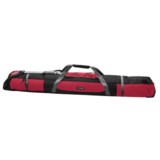 Closeouts. Protect your skis from scrapes and gouges. Transport them in High Sierra's durable wheeled ski bag -- designed for the U.S. Ski Team.
Average Rating based on
245
reviews
3.926530
0
5
Verified Buyer

Reviewed by Brenda from Tokyo, Japan on Wednesday, May 28, 2014

Good bag for the discounted price. I put two sets of skis and poles in it. Good for long skis, the end wraps back and buckles into place.

Reviewed by strawberryski from california on Tuesday, April 1, 2014

We didn't get to use the bag put it looks like it work just great for my next trip. Fits two pairs of skis I have a separate boot bag.

Reviewed by Dave from Ohio on Monday, March 10, 2014

I will keep my old bag for quick trips. This is a great bag for travel and storage. Very well made, but it's a little difficult to get skis into easily.

Reviewed by jktravel from Arkansas on Friday, March 7, 2014

Bought this several years ago and finally used it. It separated at the seams on the return flight.

Reviewed by Montana Mike from Montana on Thursday, March 6, 2014

We just used this ski bag for our trip to Utah and it worked perfectly. It easily held two pair of skis plus the poles and was very easy to pack and the wheels were a big plus as we needed to take the skis to a ski locker apart from our condo.

Reviewed by Lars the 1st from Hawaii on Thursday, March 6, 2014

I bought this bag to carry my new 194 cm super wide (170mm at the tip) powder skis.The bag seems well made but is poorly designed. The compression straps just barely allow the skis to fit, at 195cm they would not. The carry handle is not centered, which allows the length to be adjusted but makes the bag awkward to pull. The shape tapers at the front, limiting the capacity. The bag will fit 2 pairs of skiis, but not two long pairs, and there would be little room for clothing packed around. With one pair there is enough room for a helmet and ski clothing for a week. To my surprise the bag is cut at the front and one of the wheel rivets has fallen out after 3 trips. This may be because of the akward pulling angle, often the bag is on one wheel. I ended up carrying it over myl shoulders during a long airport traverse. The seemingly overly long shoulder straps worked quite well for carrying, but are otherwise sometimes in the way.

Reviewed by David from CT on Wednesday, February 26, 2014

Just got this bag and it looks to be of great quality. Plan to use it for a trip next month.

Reviewed by Anonymous from Colorado on Tuesday, February 25, 2014

1. This bag is difficult and cumbersome to carry. There is no handle/strap at the end opposite the wheels so you can't drag it behind you; instead, it has a handle on the side near the top that you use to pull the bag next to you while you're walking. It's really hard to walk with the bag right next to your leg, so you end up kind of holding it out to the side so you can walk, which is uncomfortable and will make your arm sore. It was actually easier to pick up the bag and carry it than it was to roll it with the wheels, which makes the wheels pointless and add weight to the bag for no reason. Very bad design.

2. The bag has two straps near either end which make loading skis into the bag needlessly difficult. The straps are for cinching the bag down after you've packed it, but they don't have clips. They are in the way of the skis when you're trying to place them inside the bag, which forces you to thread each end of your skis under the straps before you can close the bag. Loading skis in this bag is basically a two person job. Another bad design.

I'm returning this bag. It's just too difficult to use.

Reviewed by Summit skier from Colorado on Monday, February 24, 2014

I purchased this for ease of air travel. Due to the lack of structure, the wheels were almost worthless. The end does not hold its shape to be able to use the wheels and you therefore just drag the bag. It was also way too long for the average sized skis, so there it a lot of extra material and straps. After one trip there was a hole through the material and the bottom was already wearing.

Reviewed by Montana from Michigan on Monday, February 24, 2014

Does what it's supposed to... protects your skis. It's not entirely intuitive where the two sets of skis go, however. There is a padded flap that I keep between the bindings of the two sets of skis, but it's loose and doesn't fasten to anything. There are dedicated sleeves for the poles.