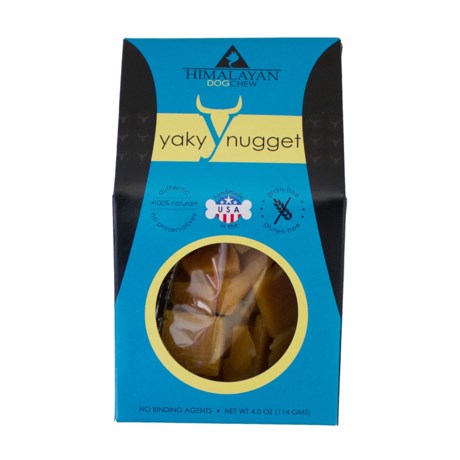 Interesting product, Not exactly as advertised
Reviewed by Senior Dog Mom from Arizona on Tuesday, January 24, 2017
The pieces vary in size and remain pretty hard even after microwaving. "Puffed in the microwave" is a bit misleading as is popcorn-like/"a popcorn treat". You expect them to have a softer, more pork rind-like texture but they remain pretty hard. Haven't tried soaking them in water prior to microwaving as suggested by some in other reviews. That seems like a lot of trouble for what should be a simple treat.

Consumers should know that these are not made in the USA but instead are packaged here. Please see below for a note from the Himalayan Dog Chew website.

"We do not have a manufacturing facility to make our Himalayan Dog Chews. Instead we collect the finished product from rural community co-ops in the Himalayas (currently Eastern Nepal and the mountains of West Bengal in India), which use traditional methods in making it for human consumption as well. They are then shipped to our facility in Mukilteo, WA where we inspect them for quality and packaging. We do have facilities for manufacturing our USA made products such as yakySTICKS, yakyCHEW, yakyCHURRO, and much more."

Note: the company freely offers this information on their site and in their You Tube videos and appears to be very sincere and animal loving. However, it's bothersome when a product is labeled "Handmade in the USA" when in truth, it's made elsewhere and only minimally processed and packaged in the USA.

I found them to be just ok. Took forever to microwave, more like 4 minutes than 40 seconds in a 1000W microwave. Worried I would burn them but they were fine. Product doesn't smell when you cook it and it didn't smoke as another reviewer mentioned happened when they extended the microwave time. Both of my dogs liked the treats or I would have given 2 stars for being more trouble than they are worth.


Most helpful positive reviews
Most helpful negative reviews
Similar items and more information in the following areas: