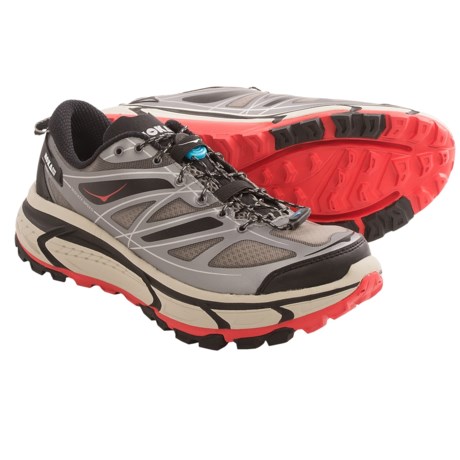 fast trail shoe, narrow width, less cushioning than a Stinson.
Verified Buyer
Reviewed by bill from folsom on Saturday, January 3, 2015
the Hoka line is getting confusing to me. i figured incorrectly the Mafate Speed would be something like the Mafate 3. it is not at all similar.
the Mafate Speed is narrow, is really light, and has more cushioning than the Conquest but less than the Stinson or even Bondi 3. I see it as the trail version of the Conquest, i would have named it the Conquest ATR, not the Mafate Speed. To try and figure this out i did a 10 mile run on tarmac , two miles in each of four Hoka shoes.
i weigh 175 pounds. the Mafate Speed was the fastest shoe. Bondi 3 second fastest. Stinson ATR next. Mafate 3 the slowest. the most cushioned was the Mafate 3, which was also the widest shoe. the Stinson ATR was next most cushioned, and was about normal width (for a Hoka). Bondi 3 next most cushioned, and is wider than the Stinson ATR but not as wide as the Mafate 3. Mafate Speed is the least cushioned of these four shoes, and is the narrowest by far.
i think the Speed is a good shoe, i think people will be happy with it, but it was named incorrectly. calling it a Mafate is very misleading. in a way, this shoe is the opposite of the Mafate 3. the shoe is perfect for someone looking for a fast trail shoe and has narrow feet. by narrow i mean "b" width. my foot is an 11b (USA) and the Mafate Speed in a size 12 fit perfectly, heel locked in with a thin sock, just the way i like it. i doubt anyone with a wide foot could tolerate this shoe.

Most helpful negative reviews
Similar items and more information in the following areas: