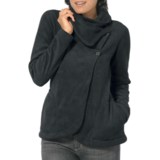 Closeouts. Made of buttery-soft Cashmoore® fleece with a trendy, two-button closure at the chest, Horny Toad's Wrapture fleece sheds the zippers, but not core-warming comfort and style.
Average Rating based on
17
reviews
4.000000
0
5
Reviewed by Lili from Nz on Monday, September 9, 2013

I am 5ft 2. And about 100 pounds. A x-small fit well. Need some skill adjust the collar. It is warm to wear at indoor, semi formal in office. Like it.

Reviewed by Elizabeth from New Hampshire on Wednesday, July 31, 2013

I wanted to love this fleece but it was bulky and the collar was awkward. Unfortunately it went back.

Reviewed by Scubabecky from Kabul on Friday, July 19, 2013

Very stylish and flattering fleece. I work in a freezing office and have been wearing this every day since it arrived...its kept me warm (sometimes a bit too much) and it so soft to the touch. I would have preferred a sturdier/stronger button (there are only 2) but overall I am happy with this top.

Verified Buyer

Reviewed by BigTimeMom from FL on Wednesday, January 23, 2013

Have another H. Toad shirt that fits quite snug, so I had hopes this would fit my tiny frame...but it is huge. The collar-thing is way too overwhelming for a small frame. The x-smallversion of this needs to be totally scaled down for a small woman. It would probably be very dramatic and stunning on a tall woman of at least medium build.

Verified Buyer

Reviewed by sailorkat from Washington DC on Tuesday, January 22, 2013

This jacket is great, soft, and cozy, but surprisingly thick. It's a bit too thick to wear indoors as a sweater - too bad b/c it's both flattering and stylish. The only thing that's slightly awkward is how far the pockets are to the side of the jacket - they are exactly on the side seam. The cut is generous, consistent with the nature of a wrap/swing style jacket. There are only two buttons at the neckline, so to stay closed the jacket does need to be generously cut. The neckline looks good with either one or both buttons fastened.

Verified Buyer

Reviewed by GretttaGardener from Duluth, MN on Monday, January 7, 2013

Gave 3 as gifts and recipients wore them multiple times upon receipt. Warm, cozy, with nice styling touches. Bought 2 black and one purple ( subdued, nice color) in medium and large. Runs true to size. Good lightweight travel jacket with button up neck to ward off cold, overhead air vents on the plane.

Verified Buyer

Reviewed by always cold girl from Seattle,Wa on Sunday, January 6, 2013

For a northwest gal that is constantly chilled,I love this fleece jacket.
It is warm and toasty but light and attractive.I especiall like how the
collar can be warn open and flat or wrapped up around the neck.It has quickly become my go to sweater.I would like to order another one.

Verified Buyer

Reviewed by fortheloveofexercise from Washington State on Thursday, December 20, 2012

I love this! I bought it as a gift but would like another for myself. My mother-in-law is very active and also fashionable so I wanted to give her something that was both and this certainly is. This brand always has creative clothing options that pair functionality and fashion nicely.

I am 5' 7" and weigh 135 and the small fit me great. A medium probably would have as well, just with a little more room for layering underneath. As it is, I would probably wear a thin layer under the small where as a medium would accommodate a sweater or sweatshirt underneath.

Verified Buyer

Reviewed by Travels light from Tennessee on Sunday, December 16, 2012

I love the style of this jacket. I love the fabric and will buy anything made of it. The fit is perfect. It is soft, warm, and light weight. The only thing I would change is the buttons. They are slim metal buttons, but a heftier button would be easier to manage. Easy to change out, there are only 2. I would have added another invisible fastener of some type toward the bottom to keep the front closed.

Verified Buyer

Reviewed by Carolina Kayaker from EAstern NC on Saturday, December 15, 2012

I have coveted the Cashmoore fleece by HornyToad for many years but never wanted to spend the money on it. Now I am glad I didn't because it really isn't that special. It is a big fluffy fleece sweater and yes it is soft and comfy but its going back. It is a poor fit for me. I should have listened to the reviewers and gotten the size smaller. I normally wear an 8, I am 5 ft tall, with a muscular stocky build. That big collar and the size was not flattering on me. That combined with the bulkyness (not a space saver) of the sweater and the nice but not great fabric.... well I was just disappinted.