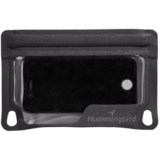 Closeouts. You're always ready to brave the elements, and now your electronics can be ready, as well. The Hummingbird E-Case is engineered with a SealLock closure to provide superior waterproof protection, and its clear urethane window lets you use the touch, talk and listen features of your device whether you're on the trail, the water or the slopes.
Average Rating based on
10
reviews
2.700000
0
5
Verified Buyer

Reviewed by Just me from Minnesota on Tuesday, August 4, 2015

Looks like it would work great, not sure what device you would put in it. Too small for a smartphone.

Reviewed by The Petite Pear from Virginia on Tuesday, August 4, 2015

Try as I might, the opening is just too small to get the phone through. The rubbery, grabby texture of the plastic does not help. I will use this for smaller items like SD cards or camera batteries. If you really want a case like this for a phone, size up to the medium case.

Verified Buyer

Reviewed by fishing again from Alaska on Thursday, July 30, 2015

None of the four cell phones in my house actually fit into this case. It was useless.

Verified Buyer

Reviewed by Geargrrl from Boston on Thursday, July 16, 2015

As others have mentioned, it really is not the right size for an iPhone5. You can get it in and out, but it's a bit of a struggle. I will use it for something else I need to keep dry.

Verified Buyer

Reviewed by GVS from NY on Thursday, June 11, 2015

Don't buy if you have an iPhone!!! the pouch is big enough for it but the opening is not, it's useless!!!!

Verified Buyer

Reviewed by E the Runner from Baltimore on Sunday, May 17, 2015

I had to take the phone out of its case to even get it in here, which was a little annoying. And-- the big issue is that there is no cord or lanyard with which to attach the case to your body. However-- it is waterproof and you can use your phone through the plastic window, so on that level it does exactly what it says it's going to do.

Verified Buyer

Reviewed by Anonymous from WI on Saturday, February 28, 2015

This would probably work if your phone was quite small. I checked the inside dimensions, and my phone should fit. However, the opening is tiny, so could not get the phone inside the case.The narrow end of the phone would fit into the opening, but no room to turn it into the case.

Verified Buyer

Reviewed by -EO- from Bowie, MD on Wednesday, October 8, 2014

Haven't really tried it yet, but the 4 stars is for quality. The Small size fits the i5 perfectly (without case).

Verified Buyer

Reviewed by jmorrow from Ohio on Thursday, August 14, 2014

I bought this case to keep my phone protected while fishing. Note, I have an iPhone 5 which fits in the case, but it is tight. If your phone is larger, you will definitely want the medium size. The waterproof quality is great and the touch screen works while the phone is in the case as advertised. The one draw back is that the picture quality is a bit blurry when attempting to take pictures with your phone while keeping it in the case. You will need to make a decision to either take the phone out of the case for pictures or live with slightly blurry ones.

Reviewed by JT from CT on Tuesday, July 8, 2014

I 've used this while kayaking / spearfishing while using my phone as a marine GPS. Keeps the phone dry.