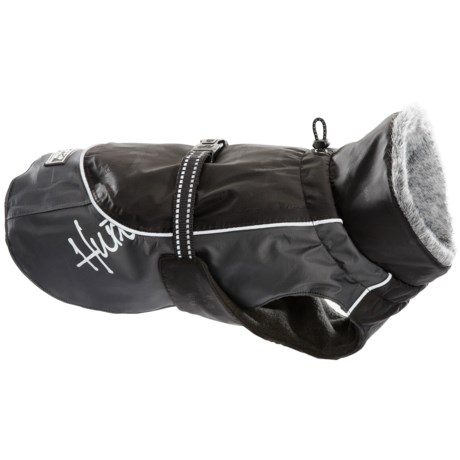 I think the only way you can do it to put the harness outside of the jacket.

The first thing one must remember is that any problem incurred from using a harness with this coat will apply to any other coat.

If your friend heels, and there is an attachment ring on the front of the harness, you might not have a problem. Remember, the neck adjustment is a bungee and will not stress the throat in the event of a sudden pull. If your friend has not been taught to heel, the only option I can think of is to sew a large button hole in the coat at the appropriate location to allow the attachment ring of the harness to poke through.

The material used in the Hurrta coat is fairly substantial (and waterproof) and should hold up to a properly installed button hole.



My dog wears a harness, too. However, it's a regular one - nothing fancy - and I just put it over the coat.

The harness would need to go over the jacket as the jacket is not designed to be used over a harness.