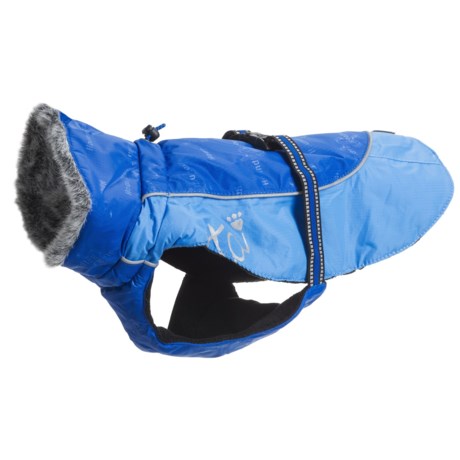 A great price for these jackets.
Verified Buyer
Reviewed by toad76 from denver, co on Thursday, March 5, 2015
I got two of these. One for my jack russel terrier and one for my shiba/cocker cross. I worried way too much about what size to order. The JRT has a really wide chest for her size and most jackets are tight in her chest and inhibit her arm movements. My shiba mix has a really long torso and her length measurement didn't match the other two measurements for the jacket.. For her length measurement, the neck and chest were going to be way too big. I was afraid the jackets just wouldn't fit. I debated on which size to get forever and finally emailed the company and asked them. And I still wasn't certain they were going to fit. The representative said to focus on the back length measurement primarily.

The JRT's jacket fits perfect, plenty of room for her arms to move comfortably. For my shiba mix I was told to go with the length measurement primarily and to not worry too much about the other two because those two measurements are more adjustable than the sizing suggests. The rep. was correct. I went with size 16 length which has a chest measurement of 25-28. Her chest is about 19 inches. So I thought the jacket would be way too loose on her. But I didn't want to go to a smaller length because then it wouldn't cover her back. But the representative I spoke with was correct. The chest straps tightens more than the sizing suggests. She is definitely on the small size of what this jacket will fit. But it just means that the jacket wraps around more and covers her chest area thoroughly.. I thought the neck was also going to be way to big. But it's fine, I didn't even used the little string to tighten the neck that much. The looseness allows me to easily get the lead on her halter (front connection) yet still keeps her plenty warm. I don't use the back straps for the legs so the jacket moves around a little bit on the JRT and I have to adjust it sometimes. But it's a jacket for a dog...it's unnatural to begin with. I think this one fits as well as I could possibly find one to fit her. When she's running around in deep snow, some snow does get up under her belly strap. But she's so short, I don't see how they could possibly correct that in the design. But she wears it all the time and it helps keep her warm on walks when it's freezing outside. My shiba mix doesn't wear hers as much. She is a stubborn little dog and acts like the coat is an affront to her. But her jacket fits even better. Because her torso is longer and her chest is on the small side for her jacket size the belly strap wraps around further back and keeps the jacket in place better.

Is the jacket perfect..no but it's close. The design looks really great on both of them (blue size 13 for my jrt and red size 16 for my shiba mix). I got them near the end of the winter season when they were on sale for around $30 and for that price I'm thrilled with them.

I hope this helps someone else who is worried over choosing the sizes.
Most helpful negative reviews
Similar items and more information in the following areas: