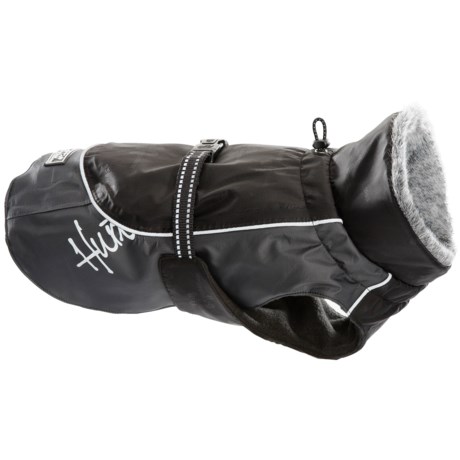 Excellent dog jacket!
Verified Buyer
Reviewed by Gloria from California on Saturday, October 15, 2016
We have a rat terrier that is beginning to show his age...as he has slowed down over the past couple of years, he has needed some help staying warm and we have tried quite a few different types of sweaters and jackets. This is by far the best option we have found. He is about the same size as a Jack Russell terrier and is 16-17 pounds with a 20" chest & from withers to base of tail his back measures 13" in length. The size 13 fits as if it was made for him. He always puts on a martyred expression when he sees a family member heading his way with a sweater or coat (he especially dislikes wool sweaters, but b4 we found this jacket it was the only thing that really worked to keep him warm enough) and he growls a bit as we are putting it on, especially when slipping the elastic bands over his hind legs, just to let us know he is only putting up with the warmth and comfort this jacket provides for our sakes (yeah right--it is all an act & nobody is fooled--he actually loves it, and it must feel very cozy because he doesn't want us to take it off!)
This is our first purchase of a Hurtta product and we are very impressed with the quality of construction as well as the 'houndtex' fabric--this isn't at all heavy but is very warm and effectively repels water. I was worried that this jacket would be too heavy as we live in California, but his coat is thin and fine and he doesn't have an undercoat, so this is fine and he doesn't get too warm, even inside. In fact, since it is adjustable, it would easily accommodate a sweater underneath if it gets really cold. No more shivering in the cold or hiding under his blankets. This goes on very easily: just slips over his head, pull the front apron-like part down over his chest and bring the webbed straps up behind is front legs and buckle them together on his back--then slip the previously mentioned elastic bands over his rear legs (the only part of the procedure he doesn't care for) and done! It takes about 20 seconds and it stays on securely without shifting around. The neck is adjustable, and the fur-lined collar can be pulled forward for warmth or folded back for a dapper appearance! This also washes quite easily (I did take another reviewer's advice and line-dry only) and still looks great. We started off with this in black, and now have it in blue and red, too. I have also purchased a rain coat and the frost jacket in the same brand. I am so happy to have found this terrific brand and at a tremendous savings, too. Definitely worth five stars, and then some...



Most helpful negative reviews
Similar items and more information in the following areas: