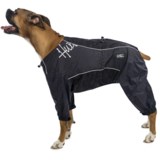 Closeouts. Save yourself from unnecessary dog washes and your pooch from excessive water, mud and wind. Hurtta's Outdoor dog coverall is made from durable nylon with a waterproof breathable Houndtex® membrane.
Average Rating based on
11
reviews
4.181818
0
5
Verified Buyer

Reviewed by REF from GA on Saturday, February 13, 2016

Great for keeping my long haired pup cleaner during a cold day's hike. A little noisy but she doesn't mind. Well constructed & easily slips on or off.

Verified Buyer

Reviewed by Bert Blood from Colorado on Friday, January 22, 2016

High quality as always from hurtta. Allows my dog to play in the wet snow without getting too wet.

Reviewed by Anne E from Salt Lake, UT on Monday, January 4, 2016

I bought this for my three dogs so they can play in the snow and not get snow balls. We have a 10lb Pom with a fat body and tiny legs. She would have been best in a 12S, but only 12M was available. The body length is perfect, but the legs are too long, she keeps stepping out of them, but if we roll them up, it's fine. The 9lb Pom with skinny body and long legs-12M fits perfectly The 9 lb chihuahua has a long body and long legs so I got him a 12L. The suit seems a little bit longer/bigger than the 12M's. He doesn't step out of the legs, but maybe would be better in a 12M.

Reviewed by Felix from UA on Sunday, October 4, 2015

Dry and clean!

Reviewed by Felix from UA on Sunday, October 4, 2015

My dog very much likes to walk in the rain, all keeshond love bad weather. And I don't like it to wash and to dry . An exit -
Hurtta Outdoor Dog Coverall

Reviewed by Chrisb from NewYork on Saturday, April 18, 2015

We bought this for our athletic and energetic 22lb cockapoo, in a 14L. It fits just about right. He hates to wear it because it is so crinkly. The whole reason we wanted it was to keep snow from balling up in his fur when we take him xc skiing or snowshoeing. It totally works for that, keeping snow off of his chest and belly, and most of his legs. It was one of the few coats we could find with long legs that would help with this problem. For that reason I give it 3 stars. Here's what I don't get. It's made with breathable shell fabric, which sounds awesome except that dogs don't sweat. so who cares if the fabric breathes? Because it's breathable, it's super crinkly and that noise gets even worse when it's cold outside. I could see using this to keep a dog dry in the rain or whatever but honestly, the crinkling is too much. I'm only going to use it when we have to keep snow off of our dog's legs. Quality made product, though. Hurtta makes good stuff.

Reviewed by none from Midwest on Sunday, November 2, 2014

I got these for the dog to wear at the horse barn in the winter. She so loves to play at the barn. Being short hair, in the summer, I just hose her off before I take her home but in winter I can't. She gets into some "stuff" there and since she sleeps with me and I'm fussy that's a problem. The good; cute, looks like a rapper track suit. The bad, noisy enough to scare the horses though, I was scared she was going to get kicked wearing it from all the rustling. She came up behind me unexpectedly and that rustling scared me a couple times too. She sounded like on Lost when the weeds started rustling before the Thing grabbed someone. Didn't seem to bother her though. Crawling under the fence she still gets a lot of her belly dirty because its open enough for boy dogs. The other reviews are right, that the legs are too long. I have better luck leaving the legs loose rather than trying to cinch them up - isn't going to stay put and probably just rip them. Not sure how tough this thing is, my dog loves to run. However until winter, you can rinse the coveralls instead of the dog and she stays dry. Seems hot and not that breathable. But for 40 - 50 degree mud runs, which where I live is the range when you get all that mud, it will as Hurta claims, save you from excessive mud. Not all mud, but excessive, yes it will.

Reviewed by mountain girl from lake tahoe on Thursday, July 3, 2014

I purchased this in the 12l for my 13 lb mini schnauzer and the fit is good on both her body and in the legs. Haven't used it, I'm sure it will take some getting used to on her part but hopefully she will acclimate to wearing gear after a summer in a life vest. I bought it to keep the snow off, she loves being in the snow all winter but the snow gloms onto her hair like that's it's job! This little suit has great coverage, everywhere but her potty parts, I'm hoping it keeps those pesky snow balls off her little body.

Reviewed by mountain girl from lake tahoe on Thursday, May 8, 2014

I hope she gets used to this by next winter, because it's exactly what I was looking for. I got the 12L and it seems to fit my 13 lb mini schnauzer in body length and leg length quite well. I bought it to keep the snow off her in the winter. She loves to be outside in the snow all winter but she has such low clearance she collects snowballs on her underside like it's her job, and they don't come off easy. When it's really bad I have to soak her in warm water to get them off. This has really good coverage for her legs, chest, and stomach. My only complaint is I wish it were a bolder color so she would be easier to see.

Reviewed by Lookn4Snow from Minnesota on Tuesday, April 1, 2014

Very well made an designed-however they are noisy and the rustle and crinkle sound is freaking my dogs out so it will take some trial runs and time to get used to these-hopefully the dogs will adapt since these will provide some protection for my temperature sensitive Boxers.