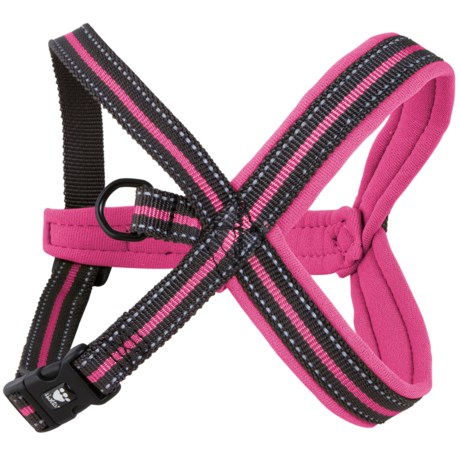 I have purchased 3 of the Hurta Y dog harness'. I have a 62lb Golden Retriever and I can tell you from experience that the dogs will still pull with this harness. I like it because it's a quality product and stays put on the dog a little easier because it uses neoprene on the bottom and lower straps. I use a "Gentle leader" that fits around the muzzle to stop the pulling, if I go to an area that has a lot of people. (Pets Mart or any other large pet store)

No it doesn't. This harness just relieves their neck.

I'm afraid that training your dog not to pull is going to be the only way you can prevent the dog from pulling most of the time. Find a good positive reinforcement dog trainer in your area to assist you.

The harness will put less restrictions on your dog's neck. So, safer for the dog if it pulls.

When fitted snugly around the chest, yes it does. Not tight, just barely snug to the body. When using the harness on my dog, he doesn't break into a run and only walks calmly. I believe the gentle, constant pressure acts in similar fashion to a Thundershirt.

I've got it for my year and a half Husky. It helps control the dog better but doesn't really prevents him from pulling.