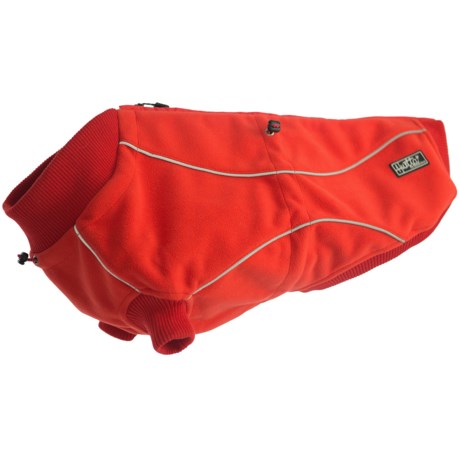 So it would appear. I never did figure it out.

Hi, See these websites for full information about measuring your dog to fit the Hurtta jacket. (I bought one for my Springer Spaniel in December and we've both been really happy with it.) http://www.youtube.com/watch?v=813LroI7j-Q
http://www.cleanrun.com/index.cfm?fuseaction=product.display&Product_ID=2997

The way the sizes are lists here are for example: 14 inches around the neck (collar measurement), on a dog with a back length (from collar to base of tail) of 17 inches to 19 inches, is for a dog with a 25 inch chest/girth measurement.

Hurtta makes coats to fit different breeds of dogs. Their products are very extensive in fitting all shapes of dogs. So, for example, for an English Bulldog, if the dog's collar size is 17 inches and the dog has a short body with a back length of between 15 inches and 17 inches, and has a chest size of 22 inches, that would fit that English Bull Dog.

Go to the websites, Hurtta.com and Eurodogdesigns.com for more information on proper sizing. Hurtta products are more expensive than the other top quality dog products, like Ruffwear, Fido Fleece and NeoPaws, because Hurtta offers better sizing more designs for different weather conditions, and better tailoring and durabiliy.

I have products from all these companies for my two dogs (very active and large) and I much prefer the Hurtta products.

And no....I am not a representative for the company. I just love my dogs and want the best for them.