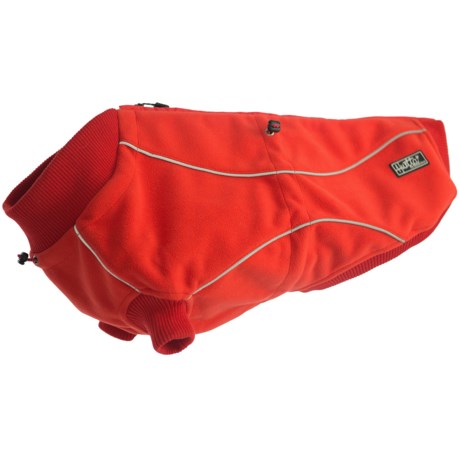 Hi, It's a little complication, but watch the video in the first link listed and it will become clear. (I bought a 20" one for my Springer Spaniel in December and we've both been really happy with it.)
http://www.youtube.com/watch?v=813LroI7j-Q

http://www.cleanrun.com/index.cfm?fuseaction=product.display&Product_ID=2997 - below are the directions from here; if you go to the site, you have to click on the left panel that says "Sizing."

How to Measure Your Dog: To fit your dog for a Hurtta Waterproof Fleece Jacket, you first need to determine his back length (measurement #1 in the diagram). If you are deciding between two sizes, use the neckline (#2 in the diagram) and chest/girth measurements (#3 in the diagram) to help you choose.

Be sure that your dog is standing squarely, with head up, and is looking straight ahead. Following the contour of the dog's back closely, measure from the top of the dog's withers (the point of his shoulders) to the base of his tail (the point where the tail joins the body). Do not measure from the dog's collar.

The neckline measurement is taken from the widest part of the dog's neck; that is, from the base of the neck. The neckline of the jacket may be several centimeters larger than the dog's actual neck measurement since the neckline of the jacket can be adjusted smaller.

The chest/girth measurement is taken from the widest part of the dog's chest, just behind the forelegs. Breeds with long and thick fur need more room for the chest than dogs with short fur.

If you are still uncertain of sizing, please call or email us for assistance.



Back
Length Neckline
Chest/
Girth

12"
30cm 9-11"
24-28cm 22"
55cm
13"
33cm 14-16"
35-40cm 24"
60cm
14"
36cm 17-19"
43-48cm 25"
64cm
16"
40cm 17-19"
43-48cm 27"
69cm
17"
42cm 15-17"
37-42cm 22"
56cm
18"
45cm 19-21"
47-52" 28"
70cm
20"
50cm 22-24"
55-60cm 33"
80cm
22"
55cm 20-24"
51-61cm 32"
82cm
24"
60cm 22-26"
55-65cm 35"
89cm
26"
65cm 23-27"
59-69cm 35"
89cm
Size 12"/30cm: Miniature Schnauzer, Chinese Crested, Kleinspitz, Pug

Size 13"/33cm: Bichon Frisé, Jack Russell Terrier, Coton de Tuléar

Size 14"/36cm: Border Terrier, Poodle, Pinscher

Size 16"/40cm: Beagle, Cocker Spaniel, Shetland Sheepdog

Size 17"/42cm: Miniature Dachshund, Dachshund, Drever

Size 18"/45cm: Australian Kelpie

Size 20"/50cm: Wheaten Terrier, Nova Scotia Duck Tolling Retriever

Size 22"/55cm: Australian Shepherd, Labrador Retriever, Dalmatian

Size 24"/60cm: Bouvier, Rough Collie, German Pointer, Golden Retriever

Size 26"/65cm: Boxer, Rottweiler, Doberman, Giant Schnauzer

Check out the Hurtta website for size. They have a tool
Where you enter your breed and style of coat and it tells you the size. My 70 lb wire haired pointer fits in a 50. It's a great coat by the way


Our dog is part Great Dane, part Catahoula Leopard. He is 36.5" around his chest, and 29" from base of his neck to just before his tail.We got the 31" length. I think we should have one one size smaller, but it was not offered. The section that goes under his belly just clears his hmmm--place for peeing. Hope this helps.

I bought one: size says 20 in, 50 cm. Don't know what that means but my dog is about 50 lbs.
and is a hound mix. I just measured him and he's 60 cm long from collar to base of tail and
he's 70 cm, (27 inches) around the girth. He's 21 inches tall (not head, just back).

The numbers given on what sizes are available are the measurement of the length from the dog's collar line, along the dog's spine, ending at the point of the dog's back where the tail begins. I have four of these coats. They are exceptionally well made, water proof, and durable. My dogs are very rough in their play style, and they run through thorny shrubbery. These coats hold up to the battering. They are easy to launder. Cold Wash, Hang Dry. And they are easy to see in low light because of the reflective trim. If your dog fits the sizes given, take advantage of this sale.