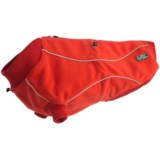 Closeouts. Constructed of soft, warm and waterproof fleece, this Hurtta jacket for dogs keeps your furry friend comfortable during cold-weather walks and hikes.
Average Rating based on
40
reviews
4.125000
0
5
Verified Buyer

Reviewed by toad76 from Denver, Co on Wednesday, February 17, 2016

Following the size charts this jacket should have fit my dog (shiba inu/cocker cross). The length was perfect. But the opening between the two front leg holes was too narrow. I would consider my dog a rather narrow chested breed. So if your dog has wide chest at all, either order up on the size chart or go elsewhere. I have several other hurta products (y harness, winter coat, collar, etc) and they all fit her fine. They fit great and have really held up over time.

As for construction and quality of this fleece, it looked and felt great. The material was pretty dense, I expected it to be thinner & softer somehow. But this material really seemed like it would be perfect for cutting the wind on a cold day. If stp had the next size up, I would have tried it. I don't think I was the only person that had to send it back. When I got it, I found an errant hair or two. So someone else had probably already sent it back before me. I used half a lint brush trying to get my dog's hair off it in order to send it back.

Reviewed by EH from London on Thursday, March 19, 2015

I bought this for my 7 KG female Jack Russell. I was surprised by how far short the jacket fell from what I needed.

I've used it during a cold and wet Fall, and stopped using it before Winter as the inside would get sopping wet. I don't know if the water goes straight through the fabric, or via the material around the leggings, or what. This is now a back-up back-up jacket if everything else is wet, muddy, or in the wash. I had actually convinced myself that I must have been mistaken and it is not waterproof, until I saw the description again here and felt obliged to write a review to give others a heads up.

Other than not being waterproof the jacket is a good fit, although the leg holes are too tight and getting her paws through has to be done by threading them through the knit part, with the dogs cooperation.

The absolute best dog jackets I have had were from STP, made by Columbia, but they have not been available anywhere for years. I've gotten probably 5 different ones since then and they all have shortcomings. The dog jackets I have from Columbia are literally coming apart at the seams, zips are busted, but I still use them on a daily basis they are so perfectly fitting, waterproof, and comfy for her.



Verified Buyer

Reviewed by Darlin from Pennsylvania on Thursday, March 12, 2015

Heard about the brand on Facebook, so thought I'd try it for my old "guy" as he needs the extra warmth on these cold winter days. This coat is perfect even for inside wear. He's 14 years old and shivers a lot even in a warm house. The fluorescent stripes on the side of the coat help me keep track of him when he goes out to do his business at bedtime. He's getting a bit senile and wanders around sometimes. Sierra had several of this brand's products available and at sale prices. Very pleased, and will definitely continue to be a Sierra customer in the future.

Verified Buyer

Reviewed by brrrr Maine winters from Maine on Monday, February 16, 2015

good zipper, coverage and not too bad to get on Snowy and Cold in New England this winter for a little puppy. 11 pounds with boundless energy. This jacket has allowed us to plow through deep snow and when we get back inside the snowballs are only on her feet so warm up/ drying time is reduced.

Verified Buyer

Reviewed by Chaucer's Mama from New England on Thursday, February 12, 2015

I've coveted this coat for some time now. Living in New England with a rather low-to-the-ground, long-furred dog, I'd often wished I had a wet suit for my boy. Walking him in rainy/snowy weather is like walking a wet mop. Online searches turned up the Hurtta dog coat line, but the prices were pretty steep, so I was thrilled to see this waterproof fleece jacket on sale here. I ordered it during the last storm in January, with an extra percentage off, and received it in the midst of the next storm the following week. Great timing.

I'm very pleased with the product. The jacket is well-constructed and pretty easy to put on - if you have a patient dog, that is. Because the jacket zips from tail to neck, I find it best to face my dog, place the coat on the floor at his feet, help his front paws through, and then draw the sides of the coat up to zip it closed. My boy got used to the sleeves pretty quickly and has no problems wearing them. He loves running or body surfing through the deep snow we have and this jacket protects him perfectly. His belly and chest, the areas of worst exposure to wet and snow/ice balls, are completely dry. I love having to wipe off only his paws and nose when he comes from romping. The sizing was a bit tricky. He falls between size, so an 18 - which was unavailable - might have given him more room, but he's managing very well with the more fitted 17. Due to the more fitted size, I haven't had to play with the adjustments too much, only the neck closure. Despite the deep snow he plows through, only a very small amount of snow gets into the cowl and the bungee cord closure keeps it from going very far down his neck. Further adjustment of the cord minimized this even more. His movements are unimpeded and he is no way restricted. He can still run like the wind with his coat on.

We've used this coat several times a day since we got it and we're loving it. Although he has a good thick coat of fur, I think my boy appreciates the wind-blocking feature of this jacket and the extra warmth. He has been able to stay out longer on the single digit/zero degree mornings and evenings we've been having and is back to enjoying his long walks. Pretty easy on, extremely easy off. Snow and moisture bead up and drip right off. It takes no time to dry. It wipes off well so far with just a damp cloth. I'll use his Hurtta raincoat (another extra percent off buy, thank you Sierra Trading Post!) during mud season, but for snowy, windy, cold days this jacket is just perfect. So glad I was able to find one at an affordable price. I've become a big fan of Hurtta coats - and Sierra Trading Post sale prices. I certainly recommend these high-quality products.

Verified Buyer

Reviewed by TK from NY on Wednesday, January 14, 2015

We have a smaller, 20 pound mix breed. He gets cold on longer says on the ice,etc. this coat fits nicely and stays in place.
Not sure about long term but appears to very durable.

Verified Buyer

Reviewed by Nooley from Wisconsin on Tuesday, December 30, 2014

I have ordered and returned and bought and returned many dog coats over the past 4 years looking for a well constructed dog coat that was waterproof, had sleeve cuffs, no velcro closures, adjustable fit and looked respectable so I don't look like I was playing "dress up" with my dog.
Another reviewer said a size 13 worked for her 20 lb Cavalier so I ordered that one too even though my Cavy is just 12 lbs. It fits great, the cuffs are long enough to cover that pesky leg hair that soaks up wet and mud like a sponge and it covers enough of the long, equally absorbent belly hair too! I love the adjustable cinching to make it tighter or more loose and I really love that the closure is zipper closure on the back! It is so hard to get a dog coat on that closes on the belly and velcro only gets full of dog hair immediately and then no longer stays closed well enough. Ive lost 2 other dog coats with Velcro closures because when she runs through fields, they get stuck on small brush and sticks and pull right off. The zipper on this coat is fantastic, making it very easy to get the hair out of the way so you wont zip up the hair along with the coat! The ONLY reason I gave this a 4 and not a 5 was because its fleece lined inside and I really hate that. I'm sure on shorter haired dogs the fleece will help to keep warm but on any shedding breed of dog, that fleece just gets covered in hair and you can never get it clean again. If they made an insulated coat yet had the lining be a smooth fabric that didn't act as a hair magnet, Id be all over it! Aside from that, GREAT coat, I know Ill be mad that I didn't get one for my Springer and Irish Setter too at this awesome price!!

Verified Buyer

Reviewed by mcdanel 1771 from Carson/Tahoe Nevada on Friday, December 26, 2014

All seams fully finished, leg holes anatomically correct, all consideration has been given to your dogs comfort. I have to give them a 4 rather than a 5, because putting them on requires your dog's cooperation

Verified Buyer

Reviewed by Farmer Lorran from California on Tuesday, December 16, 2014

This is a wonderful product... and I ordered another Hurtta Jacket for my Mastiff in size 30 inches, that fit perfectly.

However, I attempted to order this jacket in size 30 inches, and twice, size 14 inches (obviously, way too small) was sent. I think the problem is that size 14 inches is also 30 centimeters...

I'm very disappointed that the sizes are mixed up at the warehouse, and was charged shipping and not able to get the size 30 inches in this style. Also disappointed I was charged for return shipping twice.

Verified Buyer

Reviewed by Sarah from ny on Monday, December 1, 2014

Excellent fit and quality. Fits as described in guide. Unfortunately my corgi mix dog has very short legs and the little sleeves are too long for her. I wouldn't get this jacket for a breed with proportionately short legs.