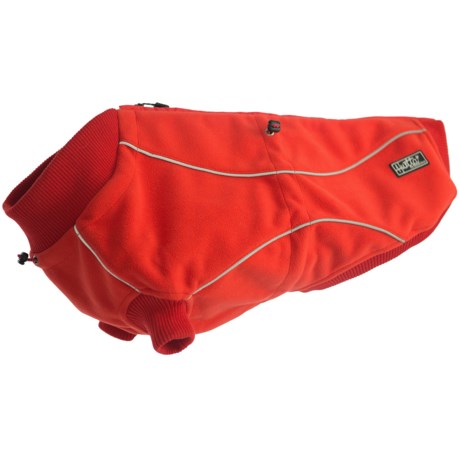 Don't be afraid of the price! Worth the money, I love it!
Reviewed by Part time Hiker from Burlington, VT on Tuesday, November 12, 2013
I adore this coat so far. Wash is only 6 months old so I bought a size that he'll grow into--so keep in mind that at the moment it's a TEEEENY bit big for him.

I work at a dog care center and my blue heeler comes with me frequently. He also loves to go hiking, biking, and trail-running with me! So naturally I needed something that could stand up to harsh, baffling Vermont weather. Most of the fashionable dog coats sold in big-chain pet stores would not fit the bill :( They would either be pulled off immediately by his buddies, or be destroyed by natural conditions out on the trails. Luckily, I found Hurtta!! The quality of the fabric is incredible. Imagine a softshell for your dogs! The outside and inside are soft and conform well to the body, unlike stiffer nylon-based blankets, but it'll keep the snow, light rain, and wind off of your dog, unlike typical fleece blankets.

It's easy to put on and the fit is marvelous (measure, double measure, and triple measure!!!). Wash took a few minutes to get used to it, and he still has a little bit of height to put on before he'll grow completely into it. I love the lining inside the zipper to prevent catching on longer hair. I love the elastic cinches at the waist and neck to create the perfect fit for your pooch. I like the IDEA of the leg straps, but they seem a little too snug on the back legs--Wash seems to hop sideways when he gets going, but they don't cause any rubs or discomfort. I imagine it's like having a wedgie. However, I am sure the elastic will stretch out a little as time goes on.

We've worn the coat on casual walks and on off-leash cycling fun around the nearby park, and it's lovely. Keeps him warm and dry without overheating or impeding movement. As long as we don't find ourselves cought in a complete downpour, I am confident that the coat will perform as anticipated. Don't be afraid of a seemingly high price. It is ABSOLUTELY worth it. I think this might be the last coat I will EVER have to buy for my pup, and if it isn't, I'll go Hurtta!
Most helpful negative reviews
Similar items and more information in the following areas: