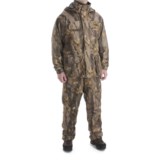 Closeouts. Equip yourself to take home a trophy in any conditions with Hycreek's Pro II Series Big Game Camo hunting package. The six-piece set includes a waterproof breathable Pro II Series Big Game jacket and pants, wicking long underwear top and bottoms, and an insulating thermal set.
Average Rating based on
25
reviews
4.520000
0
5
Reviewed by JamShumate from Mississippi on Tuesday, December 10, 2013

I purchased this hunting outfit for myself. After use I bought two more. One for each of my sons. This hunting outfit is so impressive I would recommend it for all. Careful on the washing and drying make sure you use delicate setting and drip dry.

Reviewed by Brad from California on Tuesday, August 13, 2013

A complete hunting camo set for any condition. From the coldest and weetest conditions to early fall on those hot afternoons. The layer system is perfect and the overall quality is superb. Plus it's the best value on the web.

Verified Buyer

Reviewed by River Monster from Dixon, CA. on Tuesday, February 26, 2013

This is some awesome all weather outdoors gear. Sierra Trading is an excellent company to get it from. Service was fast and reliable. Great deal for me. Guess I was at the right place at the right time! Thanks Sierra Trading!

Reviewed by Newbie from Canada on Thursday, February 21, 2013

Just received this in the mail. Comparable product sells for much, much, more in Canada. I got it for less then $150 CAD with promo code--for 6 piece total package that is dirt cheap. Order Large size unless you are pretty small. I had to return the medium and I am not huge. Have not tried it yet, but looks and feels to be excellent value for the price. I was happy with the stitching and the zippers look to be of good quality too. Definitely satisfied, even considered buying a second one for the price!

Verified Buyer

Reviewed by Amish Mike from Lancaster PA on Monday, February 18, 2013

I've been deer hunting for 30 years and have never had a truly quality hunting outfit. I've picked up a piece here and there and made it work but just barely. This Hycreek package is just what I needed to finally be able to sit comfortably all day (if needed). Let the rest of the hunters get cold and start moving around so they can push the deer my way.

Reviewed by Mike from Michigan on Monday, February 18, 2013

This stuff is great. I bought mine years ago. Before they had bibs or insulated coat or pants.
More water proof then most "water proof" suits. It will stop wind perfectly. Customer service is great as well. The price is almost unbelievebale now. I want to buy a whole second set. Hycreek also makes a great pair of brair bibs and coat as well. I can tell you for sure that you will never get better hunting gear for around $200.
Have tons of cloths that I bought over the years before I got this suit. It all just sits in my bins now.
A little advice:Get suspenders for the pants.

Verified Buyer

Reviewed by DEVAite from Death Valley, CA on Saturday, February 9, 2013

Purchased for field work dealing with Bighorn and Birds; I need the layers. Camo pattern is not necessary, but found out it works quite well in Willows and Phragmites. My colleague could only see the bright red on my backpack, not me. So far I have only tested it while searching for Bighorn. They ability to remove and add layers was quite helpful. The jacket and pants are much noisier than I would like to use for hunting but that is not their primary use. Overall, I am quite satisfied with the quality of the product.

Verified Buyer

Reviewed by jeff from Virginia on Sunday, January 27, 2013

Love it, bought set for both my son-in-laws

Reviewed by jeff from virginia on Monday, January 21, 2013

I felt inspired to tell my story of hunting clothes, love my new Hycreek suit I got here on Sierra Trading post

As a young hunter I dreamed of having a modern suit of hunting clothes. I pressed my nose against the cold glass of glossy catalogs, and envied those male models with neatly trimmed beards; those rugged men with square jaws who stood stoically on rocky crags impervious to the elements.

But alas, I was the Oliver Twist of the hunting world. My rifle was an elderly 303 Enfield, that someone had attempted to sporterize. The stock was damaged beyond repair, and so the only way keep the barrel in place was to duct tape it.

My clothes were no better. A menagerie of military surplus that kept me warm enough when it was dry, but in wet or snowy conditions sopped up moisture like a Shammy. My boots were the same leather ones I wore working construction. One time an acquaintance took me hunting and after eyeing at me and my gun said "man you are hard up".

Then a man died in New Jersey. He was a neighbor of my father's who was almost exactly my height and weight. A big box of clothes made its way north in the trunk of my parents' Buick. Inside was a beautiful, dark, Hart Schaffner Marx suit, that instantly became my number one wedding and funeral officiating costume.

But the real treasure was vintage Woolrich hunting suit that was older than me; it sported the classic deep red and thin black line pattern. I don't believe the man who owned it hunted very much, it was in perfect condition when I got it. The zippers worked, and there were no holes. I assume the dead man must have occasionally done some upscale hunting; pheasant, quail, and other blue-blooded game.

The fact that it was Elmer Fudd era clothing made no difference to me. That fall, when I went afield in the woolen suit, it was the first time in my hunting career I was warm even when I got wet. I loved that suit, and wore it whenever I had the chance to hunt in inclement weather, which means I wore it every time I hunted in Northern New York.

I packed it in on my back when I hunted in the deep woods. I would change out of my sweat soaked hiking clothes and within minutes I would feel the warm embrace of all that heavy cloth. I could plunge my hands into its deep side pockets, and curl into a sled dog style ball and nap snugly on a quiet afternoon while the snow collected on my shoulders like it does on a properly insulated roof.

I got more than a few askew looks from other hunters whom occasionally I met. I'm not sure what Terry Perkins, the iconic Stillwater ranger, thought when I ran into he and his wife somewhere near Sunshine pond one fall while they were trapping live otters. Maybe they believed a frozen hunter lost in the blizzard of 67' had finally unthawed and found his way back to civilization.

Like I said, I loved that suit, so much that I loved it to death. The pants were the first to go. I know this is hard to believe, but the inside seams became so thread bear that they tore. My wife tried patching them on several occasions, but the repairs were in vain, new patches on old thread and all that. Then the inside jacket lining began to part. But I never had the heart to put the suit away, and even though I had relocated to the southern Appalachians I still wore it when the weather turned cool up in the higher elevations.

Eventually my wife did some mercy throwing out. The tattered pants, which had become little more than a glorified set of chaps, were bagged up for the Goodwill rag donation center. I still have the jacket, ragged for sure, but still serviceable.

Last week I hunted in the rain. A cold front swept in over the mountains bringing sleet and wet snow on its leading edge, and then settled in to a steady drenching rain that started in mid afternoon and never let up through last light. And, I stayed dry as bone in my tree stand. I was wearing my new high tech hunting suit.

Yes, I caved in this year. This past summer I bought a Hycreek six-piece-multi-layer-waterproof-hunting-system from Sierra Trading Post. Like my old suit, it has pockets in all the right places. When the wind picked up that night I pulled the hood from its nesting place in the collar, and discovered it even had an extendable bill that kept the rain from dripping on my face.

I'm in love again.

I know somewhere, a young hunter who is working two jobs while trying to keep his family fed, was flipping through the pages of a catalog this past Christmas. I can see him running his hands over the shoulders of weather proof hunting outfits on the racks of the local sporting goods stores; silently wishing he could afford a proper hunting ensemble.

To that young man I say; don't worry son. Someday I, or someone like me is going to die. His friends and family will cry some tears, tell some lies about him, and then put all his clothes into a box. And maybe, just maybe, they will be just your size.

Verified Buyer

Reviewed by marvelous marvin from 47240 on Friday, January 18, 2013

Great buy and well made. fits well too.