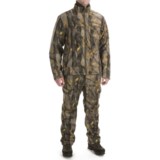 Closeouts. Dedicated bowhunters know that warm, quiet and comfortable clothing is critical to success. The Hycreek II bow hunter's package includes a brushed fleece jacket and pants, moisture-wicking long underwear and an insulating thermal set.
Average Rating based on
11
reviews
4.000000
0
5
Reviewed by Fall Bow Hunter from Colorado on Wednesday, December 25, 2013

These are a great product, feel good, very toasty. The only down side is the bottoms run on the skinny side. The outer layer is the waist size you order so not big enough for the under layers. Unfortunately I will be returning it...really wish the outer pants ran bigger because this was super nice espescially for the price.

Reviewed by Bayrard from CO on Thursday, September 19, 2013

I ordered the MT size. I am 6'2" with a 32 inch waste. I am a Colorado elk bow hunter and deal with a real variety of weather from below freezing to 80 degree bright and sunny all potentially in the same day. The solution is a good layering system. My biggest issue with the setup is the outer layer is pretty thick fleece not really giving you a good warm weather option with the setup. Id rather have a thin outer layer with one thick and one thin set of base layers. Often times to get to where I hunt I backpack in two to three hours and need something much cooler (To be fair the product description does state 300g fleece so I am not taking a star down for that). This set up is super quiet though and would do really well stalking in on big game. I did order the MT and I was very pleased with the length of the pants and sleeves. I felt like the jacket needs to be longer as when I sit down there is a gap between my pants and jacket that will let in cool air as well as pine needles, leaves, dirt, etc in the back. Also there is an odd seem around the elbow which rubs my arms a little and I find odd in a bow hunting setup. Also I have really skinny bird legs and I felt like the pants were pretty snug around my legs. Might be too tight for those with medium to large legs. I think this setup would work best in weather sub 55 degrees. Camo pattern is different than anything I have seen before. Lots of vertical lines which is great if you are hunting in the Aspen trees not sure how I feel about it if I plan to blend into the pines which is most common out here. I think it will still do the trick though of breaking up your outline. I would probably be thrilled with this setup if I were tree stand hunting and did not have to hike in very far.

Reviewed by oldbov from Ellington, CT on Tuesday, June 11, 2013

I think this maybe the best deal I've gotten from Sierra Trading Post.
For me the fit is perfect.The under layers fit well under the extremely quiet and giving outer shell.
Almost like wearing pajamas in a tree stand.
And the price allowed me to finally have some really good hunting deer

Verified Buyer

Reviewed by Whitetail Stalker from Bloomsburg, Pa on Saturday, February 2, 2013

great product. Problem in sizing. Large should have fit fine. Bottoms did, tops way tight. Went to exchange for XL was told they didn't have any and probably would not. Sizing chart way different than actual size of product.

Reviewed by CO Bowmann from Colorado on Wednesday, January 30, 2013

I just received this package in the mail, and first impressions are great. Material looks to be good quality and pattern/colors. I disregaurded the comment about the fitting not the best, but I honestly bought this package for a few pieces of the clothing since they were nice quality and seemed to have a good fit from the pictures. Upon putting on the clothing I see why the person said the fit wasn't perfect...it was awkward. I'm a smaller guy, so I got the "Small" size of the package seeing as most of the "Medium" hunting clothing is waaaay too big for me. The base layer fit well as long as I didn't move. The sleeves are a little short, and the back when I strectched was a little tight. The middle-black layer was nice, but the brown, base layer stuck to it and pulled it up when I put the black layer on. Not that big of a deal, but I can see this becoming a later issue. I then put on the top jacket and pants and was pleasently surprised that it all fit underneath them. The pants had a nice fit, and also being flexible. The jacket had no wasted/extra material. It covered my body, but when I reached out and stretched it barely covered my skin...it covered it, but I'm glad I'm going to soley wear this package. Also, when I zipped up the neck the outer layer made it tight around my neck; not too tight, but any excess movement was uncomfortable and it felt more natural to have it down a little. All-in-all as a whole this package seemed to be a good buy seeing as it was marked down from over $460. I would have been a little angry to pay that much, but I can't argue with $130 for some nice quality pieces that can be a nice advantage to my other hunting layers. I gave this product a 4/5 for the quality of clothing, the fit of the separate layers I'm going to use, and for the overall appearance/look to the jacket and pants. I would recommend using separate pieces from this package to a friend, by using it by itself could be a little weird.

Verified Buyer

Reviewed by The Huntsman from Huntsville, Alabama on Saturday, January 19, 2013

Great product. Incredible value for the money. I normally wear 2XLT clothing. That size was not available, so I tried the regular 2XL. It fit well, but was too short in the sleeves and jacket. I exchanged it for 3XLT and it fits great. All of the pieces seem to be high quality. The material is silent and I can move freely. This package is very very warm when wearing all of the layers. I will note this is not waterproof, however, I don't consider that a bad thing. I plan on carrying rain gear with me when I hunt. The only time I forsee an issue is in heavy snow or of course rain, but if you carry rain gear, no worries. I this this was a good move on Hycreek's part, it made it so the clothing could be lighter and quieter. I highly recommend this product, and may even buy the Big Game package as well for late season or very wet hunts.

Verified Buyer

Reviewed by super tines from texas on Thursday, January 17, 2013

system is great - got one set and liked it so much I ordered a second set; the only issue i've found is the fleece thermal set is not cut for layering as well as it could be, but for the money it's a a great deal.

Verified Buyer

Reviewed by grayseas from Bristol, VT on Monday, December 31, 2012

The stitching look to be of high quality

Reviewed by Buckmaster from West Brookfield, MA on Thursday, November 8, 2012

Awesome system. Base layer fits perfect but the mid layer bottoms didn't fit the same and the crotch is not deep enough and pulls down on the base layer. Wish the outer layer had tighter cuffs on the sleeves

Verified Buyer

Reviewed by Mountain Fox from Ohio on Sunday, October 28, 2012

Jacket to tight.