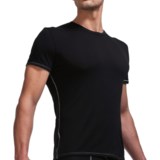 Discontinued. Stretchy-soft merino wool feels amazing next to skin, and Icebreaker's Bodyfit 150 base layer top turns any day into a comfortable, ready-for-anything experience with its temperature-regulating, luxuriously lightweight feel.
Average Rating based on
20
reviews
4.550000
0
5
Reviewed by dlewis78731 from texas on Tuesday, January 28, 2014

On a trip to Philly it was cold, and I wore this tshirt as a base layer for 3 days straight! Very comfortable, and it doesn't get stinky like the synthetics. I can run it thru the washer AND dryer (low heat) with no problems! Its pretty lightweight, but it adds more warmth than you'd think. It even looks pretty nice and I have considered wearing it alone as my tshirt top. My wife complemented it the first time she saw it! I got another one pretty quickly after trying it!
I do bicycle tours, and this tshirt will definitely be part of my gear as it is very light in weight, while delivering more warmth than expected.

Reviewed by pdx flyer from oregon on Tuesday, January 28, 2014

Just another top of the line wool wear from icebreaker !! And from STP it is a great price .

Reviewed by Mtn chica from Montana on Wednesday, January 22, 2014

My husband loves it and looks [...] good in it :)

Reviewed by Ovlov from yarmouth, maine on Monday, January 20, 2014

If your looking for a wool tee to be worn alone or under another baselayer or garment you will not go wrong with this product. Wish they had more colors avaliable.

Reviewed by SChico from California on Friday, January 17, 2014

this shirt fits nicely and looks good, feels good, smells good!

Reviewed by Sherpa_D from Metro Washington, DC on Friday, January 17, 2014

Exactly as described. Great fit, function and style.

Reviewed by klkks from Montana on Tuesday, January 14, 2014

I ordered this light weight shirt to replace on I bought in 2008. My older one is still going but has had many small holes and one tear in it that I have darned up, as well as it is fraying on the collar. I wear the tee shirt for a base layer in the winter and hike with it as the only layer in the summer. I use is for sleeping on all my backpacking trips.

The new one is the same light weight (150g) merino wool material. The IceBreaker material is very soft and does not shrink, even if accidentally tossed in the dryer.

However, my new shirt does not seem quite as soft as the first one, but with the caveat that I did not yet wash it before wearing it first. I expect that it will get softer after I wash it a couple times. The new shirt is the same weight of material as the original so I expect it will also get small holes and tears in it.

All that said, I like IceBreaker merino wool products so much because of their feel and insulating quality that I will continue to buy their products. I own two long sleeve shirts 200g, one zip sweater 320g, two tee shirts 150g, two boxer breifs 150g (no the underwear is NOT itchy). IceBreaker products are veery expensive at retail prices so this item from SierraTradingPost was a steal when I used one of their discount coupons.

Reviewed by joel_bob from Dayton on Tuesday, January 14, 2014

This is the third one I have purchased. I wear them as undershirts and they are fantastic. I usually wear them 3 or 4 days before they need washed and even after 4 days they don't smell. I usually wear an XL but due to their cut and fitting I have been ordering 2XL so that they aren't tight fitting. I would gladly buy 5 more is they weren't as expensive.

Reviewed by bh from California on Monday, January 13, 2014

Nobody imagines that wool is going to be so comfortable, soft, smooth, not itchy and warm when needed. It is not hot, it keeps you warm and comfortable, even on hot days, it is not hot, it is cool and comfortable.

Reviewed by Cyclonaut from Alabama on Friday, January 10, 2014

Perfect for those chilly mornings, but won't overheat you like a poly tee will.