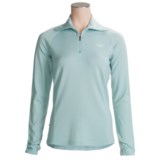 Discontinued. Icebreaker's Bodyfit 260 base layer top may very well be the most comfortable, best-performing base layer in the world, offering heavyweight warmth in a lightweight package. Pure New Zealand superfine merino wool wicks moisture, dries quickly and resists odor naturally, without synthetic fibers or treatments.
Average Rating based on
67
reviews
4.776119
0
5
Reviewed by Nurse Ratched from Central florida on Monday, January 13, 2014

I got the blue, which is beautiful! Soft, love the thumb holes. I'm 5'7" and weigh 140. I usually wear a medium but bought a large in this top (dd chest). It fits fine and is not tight. I have many icebreaker tops..this is gorgeous!

Reviewed by thepetalpusher from Very South Jersey on Friday, December 27, 2013

The coldest I've been out jogging/walking with this top is 22 degrees. With my Swix Bergan windbreaker, an insulated tank and my Icebreaker 260, I was very comfortable! I love how Icebreaker products wick away the moisture, yet keep you warm. I am only 5'2", but the thumb holes fit fine although a little loose. I got the large because I am 155 lbs. but it is a little loose--which is not a problem. The 260 weave is tighter and a little bit heftier than the 200, but is much needed for the colder temps and still thin enough to use under my fitted windbreaker. Since the fabric is fairly stretchy, the zip neck doesn't feel tight or constricting as complaints I had previously read. I hand wash with Dove or Woolite but have washed in the machine without shrinkage and dried on our old radiators. I am surprised that this is a wool product that doesn't retain odor when wet from sweat like wool sweaters I have. Icebreaker brand will now be my go-to for outdoor activities in the future.

Reviewed by Middle age Mom from New Jersey on Friday, December 13, 2013

I bought this for my step-daughter to wear as a base layer for snowboarding. The top had a snug fit, but looked beautiful on. Slightly thicker, well-constructed, soft--perfect Icebreaker merino wool. The emerald color was gorgeous. She really loved the top, the thumbholes were a cool plus. She's taking it with her on her next ski trip, so I guess she's happy with it!

Reviewed by Callie from NC on Wednesday, December 11, 2013

This top has a very nice weight. Might be somewhat too thick to layer with sweaters, but I usually wear it alone as a warm shirt. The shirts and sweaters from icebreaker tend to be more expensive than base layers, but this one is a good compromise: it is thick enough and looks good on its own, but is still within the base layer price range which I love.

Great top! Keeps me warm and dry in the winter days without any bulkiness. Love the thumb holes!

Reviewed by Megan the cyclist from KCMO on Thursday, December 5, 2013

I'm so happy that I bought this! It's very soft and warm. I commute year round by bike and I feel confident that I can make it through the Kansas City winters with this base layer shirt.

Reviewed by JoJo from Winter Park on Wednesday, December 4, 2013

I love Icebreaker products because they keep you so warm and dry, especially during physical activity. This shirt is very soft and the neck is not tight like the last icebreaker 260 I bought. Hope this will last a long time!

Reviewed by JP from Vermont on Wednesday, December 4, 2013

I absolutely love this shirt. It is handsome, comfortable, washes well (o cold, no dry) and does not absorb sweat or underarm smells. I have 6 now, 2 in blue, 2 in black, and 2 in grey. Had I known how much I love them, I would have bought 2 in each color. They are that good. I wear them as pajama tops (we live in a drafty old house), for sports, and to go out in. I can't say enough except, Sierra, please get more and in a lot of colors!

Reviewed by lindz from Brooklyn on Wednesday, November 20, 2013

Love this. The color is a gorgeous, rich blue and the wool is soft and incredibly warm. Love the thumb holes.

Reviewed by Seattle Hiker from Seattle on Sunday, November 10, 2013

I love merino wool base layers for their versatility: warmth with good breathability, long-wearing, nearly stink-free. This is a well-made layer that I'll wear often. It has a nice substantial weight that feels almost luxurious in that it is both soft and stretchy. Like most such layers, it is very slow to pick up odors. I love the long sleeves and torso - no gapping when I bend over. Be aware that the fit is fairly slender. I am 5'6" athletic 145 lbs., and nearly always wear a medium size top. In this case based on previous reviews, I ordered this in a large, and was very glad I did. It's perhaps slightly long, but I'd rather that than tight, and it would have been a very snug fit in medium - not what I wanted since I wanted to use it for active sports at times. Those who are tall and slender will probably especially like the fit, and might want to order their normal size if they like base layers to fit snugly.
Others have commented that the neck is long enough that the collar doesn't sit quite nicely when unzipped. I can see this but it's not dramatic, and certainly not something that's bothersome to me or I think would be noticeable to others.
I ordered this top at the same time as a lighter weight base layer from Icebreaker, and this one is definitely a superior product - softer, warmer, and I love the zip top. I'd order it again.

Reviewed by Wisconsin Winteress from Wisconsin on Wednesday, November 6, 2013

Really love everything else about this top but it could really use another 2-3 inches in length. What is the point of a warm wool top if it rides up and exposes your middle to the cold?