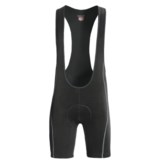 Discontinued. Icebreaker's Circuit cycling bib shorts fuse the natural moisture-wicking, temperature-regulating performance of merino wool with the durability of nylon and stretch of spandex, and the integrated chamois wicks moisture and absorbs shock for complete comfort.
Average Rating based on
14
reviews
4.000000
0
5
Verified Buyer

Reviewed by Toasty in Ohio from Ohio on Friday, May 16, 2014

Icebreaker makes well built stuff. From underwear and base layers to jackets and cycling gear. It is of high quality. I bought two pair as they eliminate rider's butt. They wick and do not smell. They fit well. The chamois works well. I sense they will be with me for years.

Reviewed by Tman from toledo, oh on Tuesday, April 22, 2014

I have other good quality brands of cycling shorts but by far these are my favorite. I purchased these bibs because i am a fan of Icebreaker, and with good reason. These bib shorts are no exeption!!. I found these to be well made and of high quality materials. These short are constructed of merino wool and some areas of nylon. To test the ability of the wool to remain odor free I rode a two day bike event with the same pair of shorts and true to the merino wool clothing it did not smell. The Chamois is constructed so well that it keeps from having pressure on the right areas. I normally have a problem with certain parts of my body loosing sensation after a long ride, but not so with these shorts. I was hoping to purchase two more pair but unfotunatly they were out of my size.

Reviewed by EE from Northeast USA on Monday, March 24, 2014

I liked these shorts at first, and left a favorable review here. Then I noticed that there seemed to be extra material over the chamois, or maybe it just shrinks after (very gentle) washing at a different rate than the main body of the shorts. Either way the look is decidedly not flattering, if you care about these things. I'm not particularly fashion conscious, but walking around looking like a toddler in serious need of a diaper change was a bit much for me. On the bike, they perform pretty well. Off the bike the thick chamois (like half an inch thick!) and sloppy extra fabric in the crotch area was a deal breaker. Even with the deep and much appreciated STP discounts, there are better merino bike shorts out there for the money, you just have to shop around a bit.

Reviewed by EE from Northeast USA on Thursday, December 26, 2013

So far I've worn these shorts for about 75 miles over three rides. They seem comfortable, well made and I like the fit. I'm a huge fan of merino clothing from Icebreaker and a few other companies and nowhere are it's awesome qualities more apparent than on the bicycle. Icebreaker is the only brand where I seem to have to consistently buy a size larger I usually wear, and that was the case with these bibs. There was slight shrinkage after the first wash. I have minor criticisms: I can feel the panels where there is only lycra, no merino, as being slightly cooler on the skin than main body of the shorts. This might be a plus in warmer weather, I don't know as it's cold out now. The chamois is almost 1/2 and inch thick and I would prefer a thinner, more flexible material. It 's fine in the saddle, very comfortable actually, but it feels a bit odd on sprints and when I'm walking around. I've got a comfortable seat on my bike, so I don't need to carry one around in my pants. That said, If these bibs hold up over time, I'll be very happy with my purchase, especially at the STP price.

Reviewed by 2pdl from South Royalton, Vermont on Monday, November 18, 2013

These Icebreaker shorts are simply wonderful for rides below the law 70s. Indeed, I like them so much that this is my second pair. The are comfortable, supportive, gently warm without being muggy, break the wind (if not the ice) while allowing amble breathing. In short, they really fill the bill. They quickly became my "go to" short for chilly -- but not cold -- rides.

Reviewed by Gweler from The hills of PA on Sunday, July 28, 2013

Only drawback to these is they're too warm for 80' or above. Chamois is nice. High Quality Stitching. All the other high end brands I've owned have had to have some stiches repaired by the usage I've on these. I've over 750miles on them. The fabric is amazingly comfortable. Once you go wool, you'll never go back. Really cool enviro-friendly company. There's a tag on the garment that allows you to locate the sheep that donated it's wool to your comfort. One last thing, wool doesn't hold odor at all, they never smell bad.

Reviewed by Customer Care from Long Island on Thursday, July 25, 2013

Make sure you size up. Order a size larger than you normally wear.

Reviewed by Flyer from NC on Tuesday, July 23, 2013

These are nice bibs, but after four rides the pad started to come off. After a couple more rides the pad is almost completely separated from the bib. They have never been washed in warm water or put in a dryer.

Reviewed by Buck from Traverse City on Monday, July 8, 2013

I've always liked Icebreaker clothes. This is the first time I bought a pair of bike riding shorts from them. I have owned a number of different types of shorts from various manufacturers including merino wool like this one, It was a medium, well manufactured, fit well and I'm 5" 9"at 160 lbs. I wouldn't have wanted to be much bigger. It would have been to tight. The only problem I found was in the padding. I ride a lot and these were the first shorts where the padding didn't quite fit my bottom and were uncomfortable after about 1 hour on the bike but only on the left side. Curious! I examined the padding and from a visual appearance they seemed fine. Maybe a little to narrow. Thinking of returning them for another pair. Otherwise they were a good ride.

Reviewed by evo from CA on Thursday, June 27, 2013

Wanted to like these, quality construction, nice material, etc. I wear L bibs in every brand I've tried until these. Snug but OK around the rear and "stuff", suspenders a bit too short, but close, and leg opening WAY too small for all but the most spindly legged.