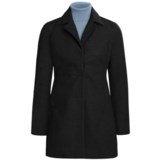 Discontinued. It's a tough call on which to love more about Icebreaker's Coastal Mayfair jacket -- the any-season warmth of superfine merino wool, or the classic, fitted cut.
Average Rating based on
22
reviews
3.545454
0
5
Reviewed by Las Truchas from Jackson Hole on Tuesday, January 13, 2015

I ordered this coat because I love another Icebreaker coat that I purchased last year from STP. This coat is well made and would be warm enough for what I wanted. The problem was the fabric that covers the buttons has gaps that puff out in front making the lines unattractive. I have been eying this coat for quite a while and finally ordered it. I'm disappointed that it was unflattering on. I'm a size 4 or a small and this just didn't look good. I had to return it.

Reviewed by islandlover from TX on Saturday, January 3, 2015

I am a fan of Icebreaker. However this is my first Icebreaker jacket. I want one for travel and everyday that should be casual but can be dressed up and not heavy. This seems to fit the requirements. Although I don't think it can be used in down pour rain but it should be able to handle light precipitation. This wool is slightly stiff so the jacket does not drape softly, thus not dressy. I am 5'4", 125 lbs, 34B. I usually wear medium in Icebreaker (do not like my clothes to fit too tightly) and bought size medium. If I pick small it would not accommodate layers. There is still some room, more in the chest area than tummy and hip, but not too loose. I don't think the tummy area is huge like some reviewers stated. There is room but not excessive to make you look too large in the middle. Sleeves are long so I'll get that altered. There are two Mayfair versions on the internet. I cannot find users' pictures of the jacket and could not figure out which version STP has. To add to the confusion, one of the answer in the Q&A section said this is not the Pure Plus line. The one I received is Pure Plus and is called Coastal Mayfair. It has princess seams in front and back. It is 380 weight and is Pure Plus line (wind resistant). I have provided pictures here to show the label near the collar, contents showing 100% polyurethane laminate (Pure Plus) and Icebreaker booklet tag listing it as Coastal Mayfair. I would prefer for the wool to be a little softer so it drapes nicer. I don't know how warm it will keep you from the element yet. Jacket is not too heavy so it'll travel nicely through airport and easy to carry. The jacket can be buttoned all the way or open a little to show small lapels. If you are not in harsh environment I think it's possible to not even zip the jacket and just use the buttons. Construction quality is superb. The hand pockets are at the right height and have enough room to hide your hands. It's nice that the pockets can be zipped closed.

It takes getting used to zip the zipper. It is two-way where you can zip the lower part up a bit to allow for larger opening when sitting in the car. The trick is to push the right side of the zipper completely down into the grove or else the zipper will get stuck and you cannot pull the top tab up. Use your left hand's middle finger and thumb to push both zipper heads down next to each other with no space in b/t. Push right side of zipper into the groove and gently pressing it down to the bottom depth of the groove (the direction towards your body). You should hear a click. The metal end part of the right side should peek through. Then gently pull the bottom tab up about a quarter inch. You should see both metal ends below the bottom tab part. Now pull the top tab up to zip all the way to the top. Then pull the bottom tab up to allow for extra hip opening or pull down completely to close the bottom part. If you do not see the right metal end click or peek through the bottom tab then it won't work because you can't pull the tab up at all.

Verified Buyer

Reviewed by Anika from New York on Wednesday, August 27, 2014

The fabric, design, and overall quality of this jacket are outstanding. The wool is soft yet sturdy and warm. Love everything about it!

Verified Buyer

Reviewed by Sporty mom from Midwest on Thursday, April 10, 2014

This jacket is very substantial. I am a size 10 in jeans and dress, 34-C bust with fairly broad shoulders. I ordered the M and it fits great. I you are small chested this jacket may not work for you. Great length hits almost mid thigh and I am 5ft 4" tall.

Reviewed by Mary Me from New Jersey on Thursday, May 2, 2013

This is a beautiful coat, well made with lovely material. After reading other reviews I ordered an xl even though I normally take a m/l in a jacket. This coat wouldn't close over any part of my body.
Such a shame it had to go back.

Verified Buyer

Reviewed by R from DC on Friday, February 22, 2013

High quality typical of Icebreaker. Note that this is a casual wear woven jacket, not a stretchy knit. Other reviewers commented on too much room around the waist, but I did not find this to be a problem, despite having an average figure (64 inches, 130 pounds).

Verified Buyer

Reviewed by c from madison, wi on Wednesday, February 20, 2013

Super cute, but a really strange fit, as described by others on STP.

Icebreaker typically fits me to a tee; this jacket, however, had way too much bulk and extra fabric in the torso. It looked very cute from the front and back, but from the side you could see all the bulky fabric. I am quite muscular with a very lean torso. Perhaps someone with a little extra in the middle would fit better in this. I imagine it would be very flattering for their figure.

Too bad, it's going back.

Verified Buyer

Reviewed by G Ma from Seneca SC on Tuesday, February 19, 2013

Lovely look and cut, sadly my middle is larger than allowed for in this garment!

Verified Buyer

Reviewed by Clara from Colorado from Colorado on Tuesday, February 19, 2013

This is a well designed coat. It is the one I reach for when I want a business casual look.
The fabric is very good, the construction is excellent. I usually wear a size 12 and ordered an XL which gives plenty of room for a sweater, etc. I am very happy with this coat.

Verified Buyer

Reviewed by LinSeattle from Seattle, WA on Friday, January 25, 2013

This seems to be one of those coats where people either love or hate the fit. I'm 5'7"/125, took a size small, and I think the fit-and-flare design looks great. I don't know how it would stand up to super-cold winters, but during Seattle's recent cold snap (temps around freezing) I was nice and warm. Icebreaker is also known for its quality construction, and this coat is no exception. I do agree that the zipper can be a little tricky; that's the only negative I can think of.