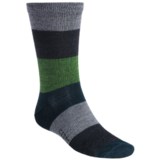 2nds. Perfect for work or play, Icebreaker's light crew sock grab bag includes three pairs of lightweight, no-cushion socks made with merino wool for naturally temperature-regulating, moisture-wicking comfort.
Average Rating based on
7
reviews
3.857142
0
5
Reviewed by riograndesam from SoCal on Wednesday, December 11, 2013

Socks are fine but I got three of exact same pairs. Not sure why they call it a grab bag. Was expecting an assortment.

Reviewed by Okie Yeti from Oklahoma on Saturday, December 7, 2013

These are excellent socks, as would be expected from Icebreaker. I cannot find any flaws that would indicate these are factory 2nds.

The only hitch is that they run crazy small as other reviewers mentioned. This worked to my advantage, as I ordered the large (supposedly 10-11 shoe) and they fit my size 8.5 foot well. So know they run about 2 sizes small.

Also, this was a "grab bag" but all three pairs were the striped one shown in the pic; probably running low in stock and variety. That's alright though, as I like the pattern and the price is right.

Reviewed by DF from District of Columbia on Friday, November 22, 2013

I wear a 10.5-11 and initially ordered the Large. They were too small with the heel of the sock well off my heel. A quick and easy return to STP brought a 3 pack of the XL, which fit well. The socks are a little tight around the foot, but relax to a comfortable tightness not long after putting on. I was hoping I would get a variety of colors/patterns, but ended up with 3 of the sock pictured above (grey/blue/green stripe). I guess that's why it's a grab bag and not a 3 pack.

Reviewed by Sparsile from The North on Friday, May 17, 2013

The socks are what you would expect in quality, but the three "assorted" pairs showed up all red and orange instead of green and grey as pictured on the site...

Reviewed by My Other Car's the Tardis from Seattle on Tuesday, April 30, 2013

Icebreaker socks are my favorites, regardless of the style and/or purpose. The run-specific ones are my go-to ones for running (yeah, I guess that's a little redundant), and are heads and shoulders better than the comparable Smart Wool ones.

The particular style sock shown above is literally my favorite pair/style of sock in the world. It's like the [...] things have Apple tech or something: They're cool when the temperature is warm and warm when the temps are cool. How does Icebreaker do it? (I can only surmise that they've managed to reverse engineer socks from the 22nd century which some time travelling space man left behind by accident.)

However, one quibble with Sierra's "grab bag" style of having bundled this particular item: I assumed I'd get 3 pairs of this style, albeit perhaps in different colors. What I got instead was the above pair of socks (e.g., 1 pair of the light crew/no cushion socks), plus 2 pairs which were similar but not the same style (light crew, light cushion--but still Icebreaker brand).

Again, I've become a die-hard Icebreaker fan, and so am not that peeved that I didn't really get what I'd ordered. But I thought "grab bag" meant I wouldn't get a say in the color of the particular item--not a totally different item than what I was ordering altogether.

Reviewed by wool guy from Maryland on Friday, April 26, 2013

Ordered XL, which is stated by STP as 13-14.5, but the package says they are EU (44.5-46.5), which according to STP own sizing is size 10-12. Nice socks but too small and back they go.

Reviewed by Zak from Duluth, MN on Friday, April 26, 2013

I have other Icebreaker ski socks, which are super nice. Best ever. These are great for every day wear, in fact I got another 3 pair and I am going to throw out all my cotton socks.