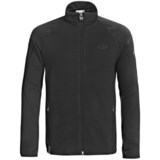 Discontinued. Icebreaker's RealFleece 260 Sierra jacket is a midweight base layer that amazes with its versatility. Moisture-wicking merino wool with a brushed interior is soft enough to wear against bare skin and also ideal for layering under a shell in cold temps.
Average Rating based on
64
reviews
4.718750
0
5
Reviewed by Brown County Bob from Indiana on Thursday, April 23, 2015

I purchased the Real Fleece Jacket one year ago, but have had limited opportunities to use this. I just returned from a trip to Montana. I received complements on my jacket from my brother and his fishing friend - both asked me to send the item information since each of them wants the same jacket. I drove from Indiana to Billings and back, camping in a tent at State Parks during the drive there and back. Most evenings the outside temp was in the low 30s (one night reached 27 degrees), accompanied by wind. At night I used the Icebreaker Real Fleece as a layer and it kept me quite warm. My wife and I are planning to walk the Camino de Santiago in the fall and both of us will bring our Icebreaker Real Fleece as our primary layer during the 500 mile hike.

Verified Buyer

Reviewed by Lighter load from NY on Sunday, January 4, 2015

I got this for the office as we constantly have the AC (even in the winter!) and this warms me up right away. Keep in mind it's not a sweater and looks better on outdoor treks but it definitely does the job.

Verified Buyer

Reviewed by Tahoesteve from Ca on Wednesday, December 3, 2014

This is a great sweatshirt or mid layer, however it has a lady's zipper on it, which though slightly irritating, is overlookable for the cost savings.

Reviewed by John Colter from Bellingham, Washington on Friday, November 14, 2014

Reading the other reviews, I bought this jacket one size larger to fit my height and weight: 6'2" and 195 pounds. XL fits me a little loosely in the shoulders, but I think an L would have been too snug and short.

Cargo is actually a greenish-gray, pleasant, even sharp, but not outstanding.

The zipper is on the wrong side, and there is a chunk cut in the tag, so I'm sure this jacket is a second. Somehow the Vietnamese manufacturer got ahold of women's zippers. No worries, it works just as well, but I think Sierra Trading Post should have noted that in the description.

Overall, though, I'm satisfied enough to keep the jacket.

Verified Buyer

Reviewed by Hobo Cyclist from Wisco! on Monday, October 13, 2014

Nice fit. Great to find something thats not size 42-44 chest.
Wear alone or seems good as a layer when winter comes. - Curse you polar vortex!

Verified Buyer

Reviewed by Doug West from New Mexico on Monday, October 6, 2014

A rating written after months of use in conditions that demand that a garment works well means a lot more than a first impression. But since most first impressions tend to stick, they are worth sharing. First impression on this 260 Sierra "jacket" is very positive. Design is really nice--the lower pockets are large enough for serious use in addition to warming hands and are very comfortable. Sleeves are a tiny bit longer than usual, great for keeping upper hands and wrists warmer especially when your arms are in moderate motion--but not so long that they get in the way. The moderately high collar has the promise of being nice in windy or cooler weather, but I can't vouch for that yet. Perhaps the best point is that the way the jacket is designed, they get the most out of the relatively light 260 gram/sq meter fabric. I have another Icebreaker jacket of similar design and weight that I've used for about three years and have really enjoyed. The new one is likely to be even better than the older one.

Verified Buyer

Reviewed by Gator from Darien, CT on Tuesday, August 12, 2014

I own 3 of these. They are extremely comfortable, warm, dressy, and can be worn almost anywhere - formal affairs excluded, maybe. I keep one in my office, one in the car and another at the cabin. You never know if a guest needs something!

Verified Buyer

Reviewed by 2pdl from Vermont on Saturday, June 14, 2014

The jacket goes well beyond what I expected. From long experience with Icebreaker I expected, and received, a well made, handsomely tailored product. But it went beyond that: the fleece interior is positively cuddly. As a result, I wear it as a base layer under other jerseys for cool morning bike rides. I also wear it over T-shirts for cool mornings; it is just the right weight for that. So, what I thought would be something hanging in my sports closet is now in my main one. Finally, it can be used as the name implies, as a jacket to throw on when going outside.

Verified Buyer

Reviewed by Donkey from So cal on Tuesday, June 3, 2014

I've had hundreds of fleece jackets over the years and all of them seem to be the same type of design, bulky and heavy however this icebreaker product is so different.

It is extremely lightweight and incredibly warm. I hit the trail a few weeks ago and the guys I were with had loaded up with several layers of various base and mid layers with windbreakers to complete their set up whereas I had a short sleeve icebreaker base and the fleece and it was all I needed for the trip and didn't have to deal with the excess weight from pulling off layers and carrying them.

I would highly recommend this product and will be doing some more icebreaker shopping soon.

Verified Buyer

Reviewed by zbillybadd from Land of 10,000 Lakes on Thursday, May 8, 2014

Wearing my Icebreaker Realfleece full zip jacket today in New York. Headed to Alaska next week and plan on using the realfleece as a midlayer for warmth.