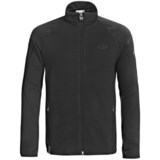 Discontinued. Icebreaker's RealFleece 260 Sierra jacket is a midweight base layer that amazes with its versatility. Moisture-wicking merino wool with a brushed interior is soft enough to wear against bare skin and also ideal for layering under a shell in cold temps.
Average Rating based on
64
reviews
4.718750
0
5
Verified Buyer

Reviewed by klkks from Montana on Monday, May 5, 2014

I purchased an Icebreaker sweater in 2008 and loved it. I finally wore it out. Recently, I purchased the IB Realfleece 260 in Nova color (a deep forest green). It is better than my original IB sweater. It is warmer, softer (love the fleece inside), and more stylish. I use my IB sweaters for trekking, backpacking, camping, sitting around the house, motorcycling, skiing, just about everything and everywhere I go. The only drawback is I really miss the thumb holes to hold the sleeves under my gloves, but I knew that feature was missing when I bought it. It still gets a 5 rating. IceBreaker has great products - expensive - but great. That's why I try to get my IB clothes from SierraTradingPost.

Verified Buyer

Reviewed by TO from MT on Monday, April 21, 2014

Purchased for my husband. He is very pleased with the jacket so far. Looks good, warm and well constructed. I will add that generally my husband is a solid size L. In this case it took a couple of exchanges to get the correct size for him. In this IB product I ordered an XL that finally worked. In IB base layers he wears a size L. Once we did get the size we needed all is good. STP has good customer service and exchanges were not difficult.

Reviewed by tim from Georgia on Monday, March 31, 2014

I'm around 6 feet 1.5 inches and 190# - at first the L felt a little tight in the armpit area and I wished I'd ordered an XL (even though the length and sizing generally seemed to be spot on otherwise). that said, I knew it was supposed to be slim fit, so I continued to wear and give it a chance. After about 4-5 wears I have decided it is about the most comfortable lightweight jacket, sweatshirt, mid-layer I have ever owned. spring is here, so the days of wearing are numbered, but I have a feeling that next year I will be spending a lot of time with this on. with the wicking and temp adjusting qualities of wool, it can be worn inside comfortably and will be just as comfortable outside at 25 degrees cooler.

Reviewed by ColdRunner from Nebraska on Friday, March 28, 2014

I bought this primarily as a midlayer when running in cold temps. I just got back from a run in about 25F weather, light wind. Over a short sleeve base layer, it was excellent. It lets a little wind through but offers just the right amount of insulation. I plan to use it when it's colder under a windproof shell.

The jacket is very high quality. I really like the smooth merino wool. Even though the outside is smooth, the inside has a small amount of loft that feels rather like the inside of a cotton sweatshirt. It's really nice. The zippers are fantastic...very durable and well-made feel to them...substantial without being huge.

As for the fit, it is a little on the smallish side. Not terribly so, but I wear large/xl about 75%/25% and for me the large was too small in this jacket. I'm 5'9", 185 with 35 waist. My arms have some meat on them and that's where this jacket was a little too snug for me. I was on the cusp of keeping the large, but just didn't feel like I had any room left underneath. It fit well, and wasn't like a compression fit but the sleeves stretched over my arms a bit too much. Maybe some folks will like that. The sleeve length on the large was perfect, though. Concerned that if I ever washed it and it shrank, I went with the XL and I'm glad I did. It provides the perfect fit...room for a layer or two without being bulky. I like to have it move around just a bit and not cling to me too much...not for a midlayer. The arms and neck also fit perfect on the XL and I'm about a 16.5 neck. The arms are longer than the XL but still fit well.

Overall, I'm extremely please with this purchase...great price on a terrific product. The return of the large couldn't have been easier.

Reviewed by crackerguy from Austin, TX on Wednesday, March 19, 2014

I bought this to wear under a shell for alpine skiing and it is great. Nice looking, super warm for weight and breathable. With mid weight long john top and this fleece under my shell I was plenty warm in low 20s/ high teens weather while skiing. With a light base layer I wear it casually on cool (30s-40s) days. Over about 50 degrees it is too warm for me. It is very smooth for wool, but if you have super sensitive skin like I do, it feels a little scratchy, that's why I wear synthetic base layers.
For reference, 6 feet, 42 chest, 32 waist, 175ish lbs and the large is a snug but comfortable fit, maybe slightly short in the sleeves so order up if you have long arms or want a looser fit.

Reviewed by stevenv from earth on Tuesday, March 18, 2014

This is a very nice jacket, made in China of New Zealand Merino, good quality and fit, very warm for it's weight.

Reviewed by renevague3 from Florida on Friday, March 14, 2014

Fits smooth and sleek, reduces bulk under outer shell compared to fleece. Toasty warm.

Reviewed by The Merino Marauder from Brooklyn on Wednesday, March 12, 2014

quality stuff. true to size. i normally wear a large, and the large fits just right.

Reviewed by CoMom from Colorado on Monday, March 3, 2014

This men's jacket is actually more of a sweater or second layer, because it's pretty form fitting. Definitely order one size up. My husband is 200#, 6'3" tall, and the XL fit him like a glove. The color is a deep teal/blue/green, which is hard to distinguish in the online photo. There are two zip hand pockets, and one pocket that zips on sleeve, for phone, credit card, etc. The inside is fleecy and warm; the outside is smooth. I have the same jacket in women's size, and I also ordered up one size, because my previous identical jacket with hood fit similarly. I have washed and worn mine for several years and had no shrinkage, the inside is still fleecy and zippers still work. These are warmer than they look. I live in Colorado and except on the coldest days, a wool layer underneath plus this jacket is enough.

Reviewed by Cameron N. from Washington state on Wednesday, February 26, 2014

This, along with an undershirt, and sometimes an outer jacket, has kept me plenty warm on 45°f degree days (and thereabouts) with little wind. I also took it on a jog and it does regulate temperature and wick moisture quite well. However, I'm 6'5" and 187 lbs and ordered the L. This fleece isn't really designed for tall men. The sleeves looks fine when my arms are at my sides, but if I raise my arms, or use em in any way, the sleeves ride up and expose a couple inches of my wrist. It's not a huge problem for me though. Also the torso area could be a bit slimmer, but I didn't want to go with a M because the shoulders would probably be too thin. I'm also very tall and thin, so keep that in mind. All in all I'm pleased with the purchase. I ordered the Nova color thinking it was black, but it's a dark forest-green FYI. I quite like it.