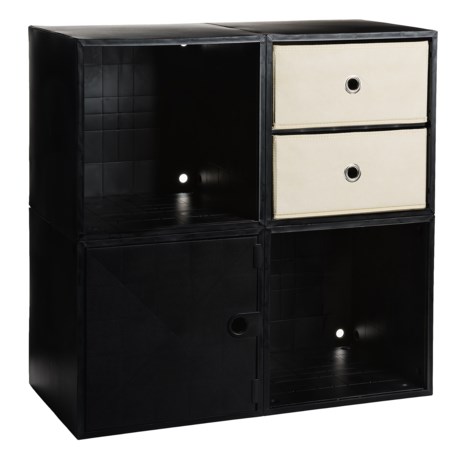 Inexpensive storage solution for clothing & bedding
Reviewed by Savvy Sleuth from Oregon on Tuesday, July 26, 2016
As long as you realize this is not a heavy-duty storage solution (only a 50 pound total capacity), you probably won't be disappointed in this inexpensive storage kit which is ideal for small spaces. The dimensions: 27-1/2x27-1/2x13-3/4" are as pictured, but this can be built four cubes high (vertically) for tall skinny spaces too. **Realize if you do that though, it may become more likely to tip on a narrow base versus a wider one.

Construction of this item took me about 40 minutes. I was hoping for 10, but the pieces didn't go together as smoothly as I would have hoped AND mine did not come with instructions for assembly! (It was well packaged though). I did go to YouTube and view an instructional video put up by the company that helped though, and I would recommend checking that out before you buy. Search for "iCube modular" and you'll find it.

The pieces vary in their thickness, but all are made of plastic. The connectors too are plastic and can be easily lost or broken if too much force is applied so take care when assembling it. I'd suggest getting a Ziploc bag to put all the small pieces in before you start for ease of assembly. No tools are required, but a good light source will help as all the pieces are black and under the right conditions - get lost easily.

The build quality is on par with most milk-crate boxes you'll find at a local discount store. I wouldn't put a 10 gallon fish tank on top of it, but it's perfect for storing t-shirts, shoes, blankets or similar with a small lamp on top.

**This product DOES ship with (2) tan iCube fabric drawers as pictured. This definitely adds to the deal you get on Sierra.

I purchased this to go into my daughter's dorm room to add additional storage to a long, narrow room. In addition I pucrhased several iCube fabric storage cubes for additional storage. While I wish putting it together had been a breeze, I'm pleased with it overall as it's what I expected it to be - cheap and functional without being able to withstand a hurricane. If those are your expectations too - give it a try!
Most helpful positive reviews
Most helpful negative reviews
Similar items and more information in the following areas: