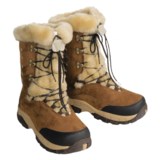 2nds. Whether you're trekking the Yukon or the slick city streets, Itasca's Anastasia snow boot will be your worthy companion. Your feet will feel next-to-the-fire warm and cozy with the furry insulation and over-the-ankle height.
Average Rating based on
249
reviews
3.566265
0
5
Verified Buyer

Reviewed by Suzy the skier from Virginia on Saturday, April 30, 2016

I love these boots! My feet, as it turns out, are a bit smaller than the size 5 the boots are.I am sending them back by MONDAY the 1st of.May. I will be trying a half-size smaller, or a size 2 and one-half in girls size. That seems to be the story of my life. Look for my order to follow real soon! Thank you again.

Verified Buyer

Reviewed by Celia from New York on Wednesday, February 10, 2016

Not the worst I've ever seen but definitely not the best. Paid 12$ for these plus shipping. For the money I can't complain. So far so good. Worn 3x so far

Verified Buyer

Reviewed by Liz from North Caroline on Sunday, March 8, 2015

Cute to look at but way too big in every way.

Reviewed by Jade from New Hampshire on Saturday, February 28, 2015

These boots are not warm (unless you have foot warmers inside with them) and they tear easily. Three days after I received them as a gift, I tripped over one of the laces and the whole front tore. I wouldn't waste your money or time on these boots, they're more for show than for actual use and warmth.

Verified Buyer

Reviewed by Rachel P from Chicago, IL on Wednesday, February 18, 2015

Very warm, very comfortable, and stylish!

Verified Buyer

Reviewed by Cece from North Carolina on Saturday, January 3, 2015

The boots have excellent weatherproofed soles that extend several inches up and around the boot and unlike many rubber waterproofings, it manages to be attractive. They are also good-looking boots overall and don't look overly large. The sizing is correct. The only reason I gave it a 3 star is that they are flat feeling and not cushioned. However, with the purchase of inexpensive insoles, that took care of the problem. I really like the boots.

Verified Buyer

Reviewed by TwistedMaples from Adirondacks on Friday, December 26, 2014

Daughter #1 liked Daughter #2's so much that we ordered a pair for her too! Not waterproof but will be perfect for walking around campus and around town.

Verified Buyer

Reviewed by mama bird from Oregon on Wednesday, November 19, 2014

I have a pair of hi tec boots that look exactly like these but are so much better quality. These are thin and not waterproof and not comfortable. On sale these were less than $30 and not even worth that.

Verified Buyer

Reviewed by Killit&dragithome from michigan on Tuesday, November 18, 2014

have never seen such a poorly made 'boot'. do not waste your time. the body is made of a brushed twill. no way these will keep you warm or dry.
definatly shipping these back!

Verified Buyer

Reviewed by Shauna from Baltimore, MD on Tuesday, November 11, 2014

the first pair that was received were too big...but that is because according to reviews...half sizes should order up to the next size. that was not true in my case and i actually needed to order down.
other than that...they are great so far...havent had a snow storm to wear them in yet though.