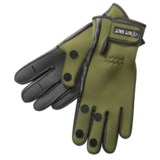 Overstock fabric. Neoprene foldback fingerless gloves from Jacob Ash Hot Shot keep hands warm and nimble. Foldback thumb, index and middle fingers convert for delicate tasks.
Average Rating based on
148
reviews
3.770270
0
5
Reviewed by CLA from Southern Calif on Tuesday, June 4, 2013

You cannot beat the price. These are great fishing gloves. They are very good quality and are made well. They keep your hands warm in very cold weather and they fit good. They also work well for upland bird hunting in wet weather.

Reviewed by Dave from MA on Monday, May 27, 2013

On my first trip on the water one of the seems started to come unraveled. By my third time on the water both gloves had major seems come completely unraveled. Not happy, but for the price, what did I expect?

Reviewed by unknown from unknown on Wednesday, April 3, 2013

Before ordering I measured my hand and ordered the size accordingly. Once I got them and put them on they fit kind of snug. My thoughts were "okay they're neoprene, they're going to be a little tight". Once I actually wore them fishing I realized they are way to tight to where when I flip the finger holes back it felt like it was cutting off circulation to my finger tips. Also with my fingers exposed I noticed that while using a spinning reel the bail would catch on the flipped up tip of the glove. I also noticed where the finger holes are that it was beginning to tear at the edges after having my fingers out the holes, now this is most likely because they were to small for my hands. Overall these could be great gloves. I may order a larger size because I feel these have potential.

Verified Buyer

Reviewed by Dog mom from Redwood coast, CA on Saturday, February 9, 2013

My husband loves these gloves. I bought them for him for working in his shop when it's cold, but he also likes them when he's running a chainsaw and doing light yardwork in chilly, damp weather.

Verified Buyer

Reviewed by Gettanet from Bubbaville, TN on Sunday, January 20, 2013

Good choice for running the lake when cool like here in the mid south during the winter. Glad I got a pair.

Verified Buyer

Reviewed by Lep from Ala on Wednesday, January 16, 2013

Works for many different uses and keeps your hands safe and warm.

Verified Buyer

Reviewed by Ginger from Louisville KY on Monday, January 7, 2013

It was a gift, so I have not used it, but it looked like good quality.

Verified Buyer

Reviewed by Tightlines from Yorktown, VA on Wednesday, January 2, 2013

Loved the gloves except that the slits where my finger tips exits is tight. Maybe their supposed to be that way, I don't know. I hope they stretch over time.

Reviewed by BrianSnat from Morris County NJ on Thursday, December 27, 2012

Overall these are pretty good gloves. My one quarrel is that the velcro patches that secure the fold back finger tips and keep them out of the way are a bit small for the job and don't hold well.

They also run very small, so order at least one size larger than you ordnarily would

Verified Buyer

Reviewed by kat from Australia on Wednesday, November 21, 2012

These are much thicker and warmer than the fishing gloves I bought previously. I am very happy with them.