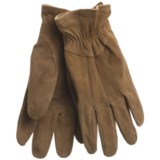 Closeouts. Working hard? Wear Jacob Ash's Ryno work gloves, made of supple but durable goat suede in a gunn cut construction.
Average Rating based on
7
reviews
4.000000
0
5
Verified Buyer

Reviewed by Breezy from Great Northwest on Tuesday, December 25, 2012

Very thin glove. Would work for light yard work or taking the dog for a walk. While spreading my fingers in the glove, the area between the thumb and index finger and middle finger got very tight. Fit fine until I spread my fingers. Reading the reviews, it is hit or miss with the sewing fit.

Verified Buyer

Reviewed by LIla from Abilene, TX on Sunday, December 16, 2012

These will replace an older pair I've had forever (that will now be demoted to backups).
Good buy.

Verified Buyer

Reviewed by HK from Spokane, WA on Saturday, December 15, 2012

These are way too thin to be "work" gloves. They are nice gloves however and I am keeping them for winter gloves. I think they will be nice for driving, but definitely not for the garden.

Verified Buyer

Reviewed by Always Looking For A Bargain from Fallon, Nv on Friday, November 9, 2012

Love these gloves. I purchased several pair, 3 for myself and 2 for a friend. The sizing they recommend is correct. Mine were all thin but good enough hand protection for the price paid. One that I got for friend was thick (good) and the other thinner..still happy with all for the price!

Cons: A bit thin
Pros: Feeding Livestock, horseback riding, Winter Driving

Reviewed by berta from Davis on Thursday, November 8, 2012

I finally decided to buy my own work gloves that would actually fit and therefore be safer. These are a lot better than the unisex gloves I used before but they have an odd fit. I say that because I know I have large palms and short fingers yet these gloves barely have long enough fingers but I still have plenty of room around my palm. In particular, the index finger and thumb appear a bit tight for me even though I have short fingers.
The leather feels nice, it is quite soft and comfortable. I am not sure it will hold up on the long run. I like the cut and style, they are pretty so I could even wear them in public.

Best Uses: Work
Cons: Odd sizing
Pros: Look good, nice quality, Soft

Verified Buyer

Reviewed by LMc from Columbia MD on Wednesday, November 7, 2012

I go through a LOT of leather gardening gloves, so I bought three pair of these -- two in dark brown, and one in a light tan. The tan gloves were absolutely lovely -- no kidding, they look like suede dress gloves. No way I'm gardening in those. One pair of the brown gloves were so-so -- the palm is oddly tight, but they are fine for the purpose I bought them for. The other pair of brown glove looked like it was sewn by a 5 year old as his or her first effort. That pair went back. Despite this experience, the good pair was so good that it might be worth taking a chance on these. My recommendation -- buy several pairs in different colors, send back the ones that don't pass your quality check.

Reviewed by Schatzie from Arkansas on Tuesday, November 6, 2012

I bought these gloves to pick up sticks and limbs in the yard. They are very soft. Really too pretty for yard work. I haven't used them yet to see how they will hold up. But, I know they will be fine, because I don't plan on working too hard. The price is great!