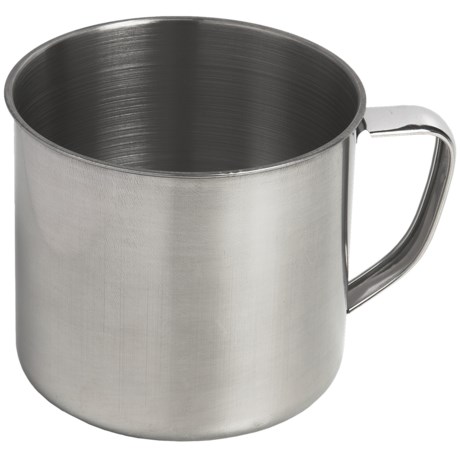 Very thin steel, probably ok for heating soup, etc but I don't think the best for cooking.

you could definitely get away with it as a cookpot but it certainly wasn't designed for it. it's super light duty and i've just used it in the kitchen to re-heat chile or heat up a drink / melt butter. that said, i don't think a cook stove would damage it but these things aren't really meant to be used and abused! it is incredibly light though...

Have not used it for that. You might go ahead if you want to ..it's large but not overly as a cook pot ..but it's so cheap ..it's not like you're breaking the bank if you ruin it ..get 2.

I think this mug may work in an emergency, but not for frequent meals. I recommend buying products suited for cooking food.

As an experiment I heated water to boiling over an MSR pocket Rocket stove and it worked fine. The cup is thin and the biggest problem I would expect with that is that it would warp if you got it too hot. I think that is easily avoided by simply paying attention and not turning the stove up to high. The handle does get hot so you will need a glove or bandana to handle it with.

I was taken aback by the fly-weight of this item. I really thought it was plastic. I can't imagine cooking in it, but at the STP price, why not chance it?

I use mine with an alcohol and wood burning stove with great results. In fact, I bought another for my other (gas) cook kit, and all my hiking partners liked it so much they now use them as well. Great lightweight pot, especially with a kozy to keep your food warm.

Having been a backpacking camper using methylated spirit burners for many years, it would be my impression that while this cup is probably large enough to cook a meal or reasonable quantity of water for hot beverages, the lack of insulation and the similar metal used for the handle, I would not recommend using this cup over a heating source unless you utilize some quantity of insulating material to wrap around the handle when attempting to hold the cup while it is being heated. Otherwise, it is highly likely you will sustain a significant thermal burn in the process.
We backpackers are generally creative in our activities, and are prepared for this inevitability, but if you are NOT a seasoned backpacker, BE AWARE of the dangers, and consider heating food with this mug at home with hot pads or similar at the ready.

The mug is not as thick as a Stainless Steel sauce pan. However, if I were camping and needed to heat something in the Jacob Mug, I would sure do so.
Believe it would hold up well to the heat, it is not than thin, but the handle would also get the heat as it is all stainless steel. Keep in mind the mug is 4.5" circumference so the flame could not engulf the mug, but low flame would work well. I bought two of these, one for my home and one for my fishing cabin.

You are right. The cup is very thin. I plan to boil water with an element in hotel rooms without hotpots. But have not try it out yet.

Hi, I used on a coleman propane and worked fine. The thing gets pretty hot and you will need a glove on to handle. I wish it was a little thicker myself.



I've used this on my jet boil stove to cook Knorr sides while backpacking and I haven't had a problem. Make sure you have a glove as the handle will get hot. It may be the cold of winter affecting performance but it doesn't seem to heat (cook) as quickly as other ultralight pots I've had. Best thing to do is experiment with it before you rely on it in backcountry!

Thanks to all who responded! I got one and think I'll make a little cozy out of reflectix for it. Sure can't beat the price!

I have not used this mug on a camp stove yet but I have used camp stoves many times and I have cookware that is very similar to this cup. I don't think you would have any issues using this to make soup or something. I would not put this on a camp stove flame without water in it.

If you treat it well, it will work out. It is thin, and the handle might not be cool enough to use w/o gloves or pot grips

I guess it all depends on what you want to cook with it. We use it for boiling water and making freeze dried meals, instant potatoes, and couscous fairly regularly and it has shown no worse for ware. I use it either a woodgas or alcohol stove. To be honest the metal is not much thinner, is any thinner, than some of the other backpacking cook pots I have.