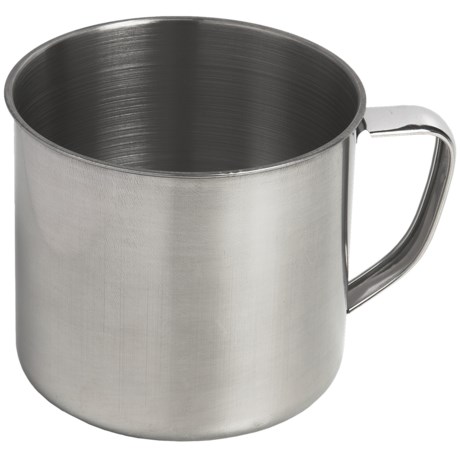 don't know. was not near a dishwasher after I used it.

Yes, but keep in mind that this is a giant cup. It is very thin stainless steel.

Sure, but secure/wedge it on top shelf. It is very light and will undoubtedly flip around.

It is all stainless so it should be. It is just like a stainless pot or pan. Put it on the top rack.

Their website says not to put in the dishwasher, it would probably not hurt it, but I wash mine by hand only.

Yes, they are made of stainless steel. Not sure if I would buy again even for $5. Only bought two and one leaked where the handle attaches to the cup. These are knockoff Jacob Bromwells. Sorry but someone needs to do an honest review

I've washed them by hand thus far. However, I don't see why there would be a problem with dishwashing them. I would put them in a dishwasher. Hope this helps.

I've put mine in several times, no discoloration or issues.

I would think so its stainless steel. I havnt washed mine in a dish washer but I dnt see a problem with washing it in one.

Of course,it's Stainless Steel! You might have water spots on it,depending on the kind dishwasher detergent or how soft your water is!

It doesn't say on the mug but since it is stainless steel I would put it in the dishwasher.

Great question.
Have not put one in the dishwasher but with stainless steal it should be ok. The heat it takes on the pocket rocket doesn't even leave a mark on the bottom. And we washed them on the trail using hot water and we boiled water in then and they were fine.. So I would say yes.

As with most stainless steel, the dishwasher will not harm.

Absolutely!! Not a problem.

The cup is completely metal with metal welding to fix the handle so I don't see the dishwasher ruining it. I never checked it but I don't see why not. I use the cup in an open camp fire flame so I clean with steel wool to clean off smoke residue but otherwise I wouldn't hesitate putting into dishwasher.

I did not put them in the dishwasher, I hand washed them. But I believe they are dishwashers safe!

Stainless is dishwater save. It may spot a bit.

IDK I have only done an inital wash with warm soapy water. I don't see why you couldn't put it in the dishwasher - it is stainless steel after all.