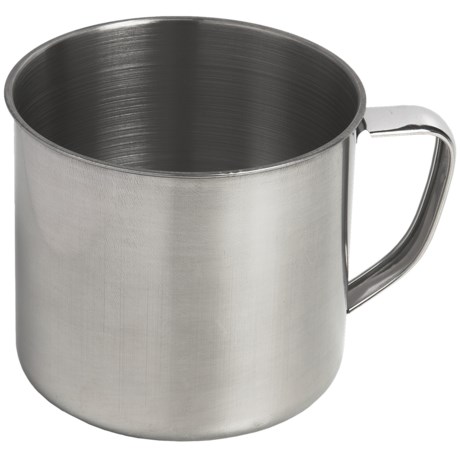 It's kind of thin. It doesn't hold heat long but I do like the cup. I use it more for soup or tea. Great stew or chilli mug. It's huge.

It does for me. I drink a large coffee in the morning, and have no trouble with it staying hot. However, it is not a thermos. It is not designed to hold heat beyond standard drinking time.

Not particularly well. It keeps a mug of tea hot long enough to drink it, but not as long as a thick ceramic mug or an insulated travel mug.

It is impossible to know that answer without testing. So, without misleading you, you will have to determine that yourself. HINT: this mug is NOT insulated.

Not bad. It's thin and lightweight, non insulated. But doesn't seem to transfer heat to the handle as quick as other mugs I've used. I use for oatmeal with no problems.

Reasonably well. If you are on the trail and it is cold or blowing, try putting a cover over the cup. Anything will do. If you are in a car type campsite, the heat will hold for a while.

it holds heat reasonably well. However, we used it mostly as a cook pot on a backpack stove to boil water for freeze-dryed meals, coffee, instant hot chocolate and tea. it holds enough water for more than one item, boils rapidly, and requires less fuel in circumstances where fuel consumption is an issue.

It is a thin stainless steel, which makes it lightweight for camping/backpacking which is ideal, and the size makes it a good cooking type pot, but because it is a thin stainless steel it will not hold the heat for coffee, soups for too long. Transfer whatever you used it for to a insulated cup to hold the heat.

The mug is thin metal with no insulation. Therefore it conducts heat rapidly. With really hot soup you have to hold the handle or have something to insulate your hand.

It should do okay, but as it is not insulated it will not hold heat for too long.

works great on an induction stove heating up soup and stays fairly warm for a while doing that. But I would say a good ceramic coffee mug holds the heat better for coffee. But if you're camping it's about the same as the poly carbonate cups. It absorbs the heat of whatever is in it. Great cup though, very handy for iced drinks too.

Yes, this steel cup holds up to whatever you put in it. I even brewed tea over a fire. The steel had a bronze tone after.