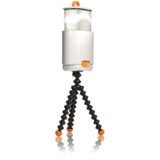 Closeouts. Two devices in one, Joby's Gorillatorch Switchback headlamp/lantern is two devices in one. The super-bright 130-lumen lantern attaches to virtually any surface with gorillapod legs. The detachable base converts to an adjustable headlamp with five LEDs.
Average Rating based on
20
reviews
4.200000
0
5
Reviewed by SoCali from L.A. California on Wednesday, September 4, 2013

Took it camping and it did everything it promised to do.

Reviewed by Atomic Frolic from Wyoming on Tuesday, July 9, 2013

The overhead lights in my 35-year-old pop-up camper don't always work. This lamp brightened up the whole cabin. I like the adjustable feet and beam brightness. It was good for reading in bed, or out at the picnic table. Haven't tried it as a headlamp yet, but it may be a little heavier than one with smaller batteries. But I LIKE the fact that this doesn't take some tiny expensive battery. I always carry several AAs around. With the adapter supplied, you can even use the goofy feet for group shots with your small camera.

Reviewed by dollarhiker from Newington on Saturday, July 6, 2013

Well constructed. Nice buttons and overall features. However this setup is larger than it looks and is too heavy for what I call back-country backpacking. The legs are flexible but are only meant to hold the light. Don't expect to dual use then on even the smallest compact camera.

Reviewed by Ms. O from Seattle on Tuesday, June 25, 2013

My son loves this thing. He figured how to take the top off so it works like a flashlight. We hung it on a tree, set it on a table and it worked great to read by in the tent.

Reviewed by Aspensteve from Aspen, Colorado on Tuesday, June 25, 2013

I bought this light based on mostly good reviews, especially at a great price. Some said that the headlamp part was difficult to fit back into the lamp section..I had no issues with it whatsoever. I haven't had to change batteries yet, so no input on the battery life yet, but so far very pleased with the light output and overall function. Cree LED's make this little light very bright! I have Cree bulbs on my motorcycle offroad aux lights and they're ridiculously bright

Reviewed by johnny fisherman from Colorado on Wednesday, June 5, 2013

Wow 130max Lumens in a small package, I would recommend this light for backpacking sure it's not ultra light but it's compact size and great light output is worth the extra weight in my pack. Fitting the headlamp into the lantern housing is a bit awkward but takes a little bit of time to figure it out no big deal. to increase the light out put hold the center button and same to decrease. There are a few nice features the built in hook to hang in your tent and the tripod is awesome. Just like many other reviews here the camera adapter can be easily lost due to it's small size.

I haven't tried to wear the unit as a headlamp yet, the battery housing doesn't look like it will be very comfortable on the back of my head but might work fine worn over a hat. There are two batteries that are also included but I plan to switch to rechargeable once they are drained.

In my opinion this light is hard to beat for the price which I was able to get a super deal after sale and promo coupons. Durability after drops and effects of cold sub freezing temp is yet to be determined . Don't pass on this one you won't be sorry.

Reviewed by Milk from TN on Monday, June 3, 2013

ok headlamp, useful tripod, but the lantern did not snap together. Not worth returning since I would pay shipping. I would not recommend.

Reviewed by Camp Hawaii from Hawai'i on Monday, June 3, 2013

Good lamp, handy that it switches between headlamp and table/hanging lamp. Good 3 way lighting, low, bright and red. A little difficult to stuff the head band and cable into the lamp housing when switching from headlamp to table lamp, otherwise good lamp.

Reviewed by Rich from Ca on Monday, June 3, 2013

This is a good light with great flexibility, but is too heavy and big to go on the trail.

Reviewed by mollie63 from Wisconsin on Monday, June 3, 2013

I purchased this unit for use at our cabin in northern Wisconsin which has no power. While we have gas lighting, it is nice to have something that you can carry with you that gives enough light to perform tasks such as changing of clothes, reading, trip to privy, etc. While changing, I actually wrapped those 3 tentacle like legs around the top of a wooden rocking chair and it did nicely. I highly recommend this product.