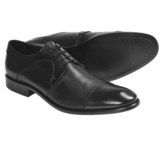 Closeouts. The question is... where can't John Varvatros' Richard cap toe shoes go? As timeless as they are versatile, these classic cap-toe oxfords adapt to a variety of settings.
Average Rating based on
19
reviews
4.736842
0
5
Reviewed by So Cal Hiker. from San Diego CA on Friday, July 12, 2013

Just received my J. Varvatos Cap Toe Oxfords. Wow! The build quality is flawless. I've other Italian made shoes and this pair is easily as good or better than the others. The stitching, calf leather, and detailing are some of the best I've seen. The fit is perfect as well. Oddly, I ordered this pair in my regular size which is 8.5 and did not order the half size smaller as recommended. Guess I was just lucky. I seem to do well when purchasing Italian made footwear for my somewhat wider feet. This pair was no exception as I had sufficient forefoot room in the toebox for a medium or "D" width listed shoe. As usual, the STP pricing made this purchase possible since the list price was beyond my reach. Great shoe, great fit, great servcie, at an "I stole it" price!!! Aahhhh, life is good!!

Reviewed by buddhaauthor from Los Angeles on Saturday, May 4, 2013

I've never before purchased a pair of shoes in this league, so I'm not highly informed, but, wow, these are beautiful. The quality of the leather is lovely, of course, but it's the stitching and the burnishing and the detailing that so impress me. Two notes: 1) I bought the Espresso and, as others have said, it is quite dark. In low light it would look black. 2) I did *not* buy half a size small, as per the instructions, and the shoes fit properly. Half a size small would have made them, well, half a size too small. Not sure what STP was thinking there. Perhaps it's that they are long in the toe box, but that is just from the elongated style. It does not make them long in the arch or heel areas. Buy your normal size.

These shoes are like going to an absolutely exceptional restaurant: you can't have the best in a lot of things in life, but you can splurge a few, and these feel like one of those bests. I'm sure there are even nicer shoes out there for even more money, but, with a coupon, STP brought these down to my level and I'm happy.

Reviewed by Brian1 from PA on Tuesday, April 16, 2013

Didn't need another paisr of dress shoes, but not sorry I bought these at ba price bI pay for Chinese junk.

Reviewed by N W from Connecticut on Saturday, April 13, 2013

These are clean, classy looking shoes, and the most comfortable dress shoes I've worn. I bought the espresso, which looks a lot like black in low lighting; a slightly lighter shade of brown would have been nice, but I won't complain. I wear a 10, and these fit true to size. I also got the plain toes in black, and I love both.

Reviewed by Suit Searcher from East Coast on Wednesday, April 10, 2013

The MSRP on these is absurd. At $550, are they comparable in craftsmanship to a pair of Crockett and Jones? Probably not. Fortunately, these are not priced at full retail and are great well made shoes for the price. These have a slightly elongated toe, which is pointy relative to a pair of, say, work boots, but really moderate compared to many other English or Italian made shoes.

Mine did have a small smudge near the heal (these are seconds). But is was less damage than would occur from a single outdoor wearing; no big deal.

Cons.

Blake (inside) stitched so probably not resolable at your local cobbler. But at this price, who cares.


Reviewed by Shoe admirer from California on Sunday, April 7, 2013

I really liked this shoe. Ran true to my size. They provide real nice support to arch and ball in your toe. I still can't believe it could be at such a great deal. I have already several compliments on these.

Reviewed by Rose City Banker from Georgia on Friday, March 29, 2013

These shoes are a tremendous value. Well made with high quality leather. I look forward to many years of use from these. I first bought a black pair, and once I tried them on, I immediately got online and ordered the dark brown pair. Also, I found they fit true to size and were comfortable right out of the box. I immediately got compliments on these shoes the first time I wore them. I have purchased many great deals on STP over the years, but these are my favorite by far!

Reviewed by UWUM 15 from Missoula, MT on Friday, March 29, 2013

I bought the black and the brown in these because they were at such nice values. They do have a long toe which makes them too big in the toe-box but they fit very well throughout the shoe and I like that style/look so I was completely happy with them. I did have to return both since they were about a 1/2 size too big for my normal size, but I really enjoy them with slacks or jeans. Varvatos makes very high-end products and these are not any different, they get a lot of nice compliments.

Reviewed by UWUM 15 from Missoula, MT on Friday, March 22, 2013

These shoes get compliments immediately! I bought one pair in black and one in brown simply because I've know of Varvatos and realized I'd never get this quality at this price again. I wasn't disappointed with them at all, although I don't think I'd pay the $550 retail for them. Very nice for the value.

Reviewed by Jibba from DC Metro Area on Thursday, March 21, 2013

These shoes are the epitome of Italian made quality, and the price from STP (with coupon) was fantastic. Classic cap-toe look but with modern styling, they are smashing with a nice suit and the fit is true (I did not order half size up as recommended). I've purchased a lot of dress shoes from STP, but I believe these are the best quality for the price.