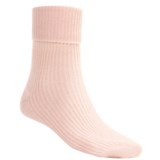 Closeouts. Treat guests like royalty and gift them a pair of Johnstons of Elgin's super-soft bed socks made from cashmere, a fabric once favored by kings. Vertical mill assures all dyeing, spinning, weaving and finishing processes are carefully controlled on site.
Average Rating based on
215
reviews
4.590697
0
5
Verified Buyer

Reviewed by DoesFortWorthEverCrossYourMind? from Cowtown on Saturday, May 21, 2016

What a quality pair of cashmere socks. I'm so excited to wear them this winter when it's cold outside. They are extremely soft and luxurious.

Verified Buyer

Reviewed by Klara from California on Sunday, May 8, 2016

Love it! Warm, comfy, soft and good price!

Verified Buyer

Reviewed by Amazonnadonna from Atlanta on Thursday, April 21, 2016

I've bought many pairs of Johnstons of Elgin cashmere bed socks for women from Sierra Trading post, including this particular color (wildebeast). The socks I received this time are are a darker (uglier) color (olive-brown-dark gray?), and the cashmere is neither as fine nor as dense. I kept the order because I was going through some personal setbacks at the time the order arrived, and didn't have the energy to return them, or I would have.

Disappointed.

Verified Buyer

Reviewed by Shopper from New York on Wednesday, April 13, 2016

I had been eyeing these socks for quite some time, and finally ordered them. They are wonderful - more than I hoped for: soft, cozy and oh so warm!

Verified Buyer

Reviewed by Irina from New York on Tuesday, April 12, 2016

Finally I found pure cashmere socks, love it, thanks STP!

Verified Buyer

Reviewed by organic from Kamuela, Hawaii on Wednesday, February 24, 2016

Love these. Warm, soft as a whisper, nice to sleep in when your feet need a little bit more warmth.

Verified Buyer

Reviewed by Lorraine from California on Sunday, January 10, 2016

These have become my favorite for sleep and for lounging around the house.

Verified Buyer

Reviewed by Mainer from Virginia on Friday, December 25, 2015

These will keep your feet toaty

Verified Buyer

Reviewed by Fabric Junkey from Los Angeles on Wednesday, December 2, 2015

I purchased three pairs of these "bed socks." A little pricy, but for cashmere, not so much. They have heft and are made well and are super soft. I'm sure I'll get many years of wear out of them and many nights of warmth & comfort! Buy them at the closeout price...you won't be disappointed!

Reviewed by fidgal from MO on Monday, December 15, 2014

That's the only reason I am giving this item 3 stars. The only size in stock was too small for a Women's size 6 foot. Would have been great otherwise. Had to return.

Verified Buyer

Reviewed by loves comfort from oregon on Wednesday, November 19, 2014

They are warm and cozy - I have had 3 pair - and unfortunately each pair has fairly quickly gotten holes in the heels. I have not worn them with shoes or used them as normal socks - but still holes in the heels. Otherwise I love them.

Verified Buyer

Reviewed by Willybear from virginia on Monday, November 17, 2014

I could hear my wife as she was putting these on over the baby monitor and she was extremely pleased. Great purchase. Will get these as christmas presents for all the sleepy women in my life.

Reviewed by Bargin shopper from Santa Monica, ca on Tuesday, December 10, 2013

These socks are so soft and comfortable. I have several pairs for sleep or lounging around.

Reviewed by spirit33 from Colorado on Friday, December 6, 2013

Thought I would treat myself to a pair of cashmere socks with the 35% off coupon. These socks could spoil a person. They are so soft! The cashmere is great for warmth, without sweating or unpleasant foot odor. Wish I could afford a couple dozen pairs.

Reviewed by Cassandra from Vancouver, BC on Wednesday, November 13, 2013

As bed socks, these forever solve the problem of not being able to get to sleep because my feet are cold. Likely not going to last long if worn schlumpfing around the house, though, so I try not to use them as slippers (much) although it's hard to take them off. They aren't tight and have grown a bit bigger (no lycra, perhaps) so are a loose fit on my sz 9 women's foot; not tight at the ankle either, just snug enough to stay on. I bought a second pair that I am trying wearing in shoes, so I'm trying not to stretch those out. They are nice for gardening :-)

Reviewed by Carroll Toasty Toes from Maryland on Thursday, November 7, 2013

I bought a pair of these cashmere socks last year and loved them so much I had to get more! They keep your feet warm without the weight of heavier Ragg wool socks, and the colors are prettier too. The socks are great for lounging around reading a book or watching tv as well as wearing them to sleep in. The socks are huge when you get them but the they do shrink once they are washed (hand wash and air dry).

They would make a great holiday gift...



Reviewed by Hiker from California on Monday, October 28, 2013

Since all cashmere they are just for bed and not for shoe wear. They are very warm and very soft as expected. A treat for anyone that needs to keep feet warm.

Reviewed by zena from Minnesota on Sunday, October 20, 2013

very soft, warm, and come in lovely colors

Reviewed by sactosuz from CA on Thursday, March 14, 2013

Love these ! Socks are large, but haven't washed them yet.

Verified Buyer

Reviewed by Elke the animal lover from Central Florida on Tuesday, February 19, 2013

The socks are absolutely wonderful! Love, love, love them!So soft, non-itchy. Every time I put them on, I have a happy smile on my face. A very smart design with a very fine elastic that keeps the socks on my feet under the blanket on chilly nights. I definately buy more in the future in different colors.My advise is to use them as intended, i.e. as bed socks.

Verified Buyer

Reviewed by Girl from the North Country from Granville, Ohio on Tuesday, February 12, 2013

These are the softest, warmest socks you will own. Having said that they are also 100% cashmere and not meant to withstand a lot of wear and tear. That is why they are called "bedsocks". Wear them on a cold night, curled up with a good book.

Verified Buyer

Reviewed by FiFi from Boulder, Colorado on Monday, February 11, 2013

Have sent lots of these to relatives in England/Scotland... where you CANNOT get 100% cashmere socks at anywhere close to this amazing price! Even with the postage, they're incredible value!

Verified Buyer

Reviewed by TESS's Friend from Roseville, CA on Monday, February 4, 2013

To keep my feet warm at night and increase blood circulation there

Verified Buyer

Reviewed by Lilyrose from Oregon on Tuesday, January 29, 2013

When I had the flu recently these socks were my best friend.

Verified Buyer

Reviewed by Toasty Toes from Maryland on Friday, January 18, 2013

These cashmere socks are so soft and warm, without the bulk of thicker socks. Was concerned when they arrived because they seemed to run large, but they did shrink some after washing and now they fit perfectly. They have been just the ticket for bumming around the house on chilly winter days.

Verified Buyer

Reviewed by Elke S from Central Florida on Friday, January 18, 2013

I recently purchased this product. The socks are very soft, non-itchy and warm, very pleasant to the touch. I really enjoy them on occasional cool nights here in Florida.I will be buying more in other colors soon.Also they were delivered to my house very fast. I really appreciate great quality of the products and excellent customer service.

Verified Buyer

Reviewed by STS from Atlanta Ga on Tuesday, January 15, 2013

Great arround the house

Verified Buyer

Reviewed by Claire de Lune from Tennessee on Thursday, December 27, 2012

These socks fit loosely enough to sleep in with comfort. I have Neuropathy and the doctor told me to find some loose socks to sleep in and keep my feet warm. These are just perfect!

Verified Buyer

Reviewed by Love to get deals from Santa Monica, CA on Thursday, December 27, 2012

I use these around the house and for sleeping on cold nights. They shouldnt be worn as socks because they wear out way too fast.

Verified Buyer

Reviewed by Blikker from Copenhagen, Denmark on Tuesday, December 25, 2012

Warm, soft, good looking socks for wearing around the house, and as bed socks on really cold nights.