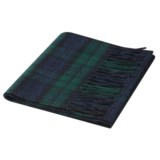 Closeouts. A pure cashmere scarf from Johnstons of Elgin: need we say more? One of the world's most highly prized fabrics, nothing beats the feel of shiver-soft cashmere wrapped around your neck.
Average Rating based on
321
reviews
4.688473
0
5
Verified Buyer

Reviewed by Shawn from Colorado on Sunday, December 21, 2014

I have 3 Johnstons of Elgin Cashmere Scarfs now. I even bough one twice because one was accidentally left on a plane (I think). They have all been very high quality and in excellent condition (not 2nds). These are soft and warm and look great.

Verified Buyer

Reviewed by Aaron W from Toronto on Tuesday, December 16, 2014

Great Scarf, A bit on the thinner side, but very warm and looks great!

Verified Buyer

Reviewed by Francophile from Charlotte on Wednesday, November 26, 2014

This was the perfect color and weight I wanted in a cashmere scarf. Soft and drapes well, not bulky.

Verified Buyer

Reviewed by Del the Bear from Southern California on Thursday, August 14, 2014

I did enjoy the feel of material and light weight. This is definitely a quality item. The length could have been longer, and the width was a bit narrow than I expected. For the price, I expected a bit more material. I returned the scarf.

Reviewed by Lulubelle from New York on Friday, March 14, 2014

Johnston's of Elgin is a wonderful cashmere company.
Unfortunately, the "soft blue" scarf was really grey and
I had to return it.

Reviewed by Alex from Canada on Monday, March 10, 2014

Great Scarf.

Reviewed by Melissa from DC on Friday, March 7, 2014

The scarf was of high quality cashmere at a great discounted price.

Reviewed by sportdoc from melbourne, australia on Thursday, March 6, 2014

Excellent quality at good price.. Not that great if you want to tie / knot due to short length.

Reviewed by donomom from The Falls on Sunday, March 2, 2014

I bought two Johnstons scarves, hope to buy more of their products later on Sierra!

Reviewed by Nicker from CA on Sunday, March 2, 2014

Thinner than the one i had brought in uk, some variegated hair on the surface. So i wonder it is seconds.

Reviewed by MrsKei from Japan on Wednesday, February 26, 2014

This cashmere scarf is very soft and good quality at a very reasonable price.

Reviewed by lchase from OK on Monday, January 27, 2014

Excellent quality scarf at a very reasonable clearance price.

Reviewed by Sara the Shopper from New York on Thursday, January 23, 2014

This scarf is sooooo soft. I ordered it in two different colors for both my husband and myself. Great not only to wrap around your neck but during the bitter cold days we are having in New York, the scarf works well against your face.

Reviewed by Sara the Shopper from New York on Thursday, January 23, 2014


This scarf is soooooo soft. Perfect on the cold, frigid days we are now having in New York. Perfect not only to wrap around your neck but your face as well. Both my husband and I love them.

Reviewed by Meg at the beach from South Carolina on Monday, January 13, 2014

I bought two of these cashmere scarves as gifts, so cannot comment on whether they will pill. Both recipients were very pleased and commented on the softness and warmth. The size is good and overall quality seems excellent.

Reviewed by Flownthecoop from South Carolina on Friday, January 10, 2014

I bought this for a Christmas gift for a twenty-something man. He loved it, and appreciated the quality.

Reviewed by Patch from Virginia on Monday, January 6, 2014

Bought this for my wife - very high quality.

Reviewed by Elliptical queen from Memphis, TN on Friday, January 3, 2014

I bought this as a Christmas gift for my Dad about a month ago. He seemed to like it and has worn it several times since. The Black Stuart (which is no longer available) is beautiful, and seems to go with everything. It appears to be substantial and is very soft. My father is relatively sensitive (a previous lambswool scarf left a rash on his neck). This scarf hasn't caused any problems.

Reviewed by Happy customer from New York on Thursday, January 2, 2014

Bought the navy color for my boyfriend and he loved it! Great quality, color, and was a great gift!

Reviewed by Kenny from Staten Island on Tuesday, December 31, 2013

Beautiful, well-made, great colors, and purchased at a great price - love the scarves I bought!

Reviewed by Andy from Japan on Tuesday, December 10, 2013

One of the nicest and softest scarf I've ever had.

Reviewed by Ellen from California on Tuesday, December 3, 2013

I haven't taken it off...well when I go outdoors anyway, and find I often wear it inside as it is warm and beautiful.

Reviewed by Caligirl from NYC on Wednesday, October 30, 2013

I tried this on when it arrived today and haven't taken it off since (and don't want to)....even though I'm indoors. That is how soft, warm, and comfortable this scarf is. The first cashmere scarf I've owned that doesn't make my neck itch. I ordered the purple argyle...fairly subtle and muted, not a bright purple. Am thinking of ordering one in a second color.

I also have the Johnstone's Cashmere and Wool blankets...the same wonderful quality. This company produces first-class, excellent products - and made in Scotland, not China. Will be buying more - thanks STP!

Reviewed by ilovelucille from NY on Thursday, October 17, 2013

Nothing like cashmere close to you for warmth and admiration for all who see.

Reviewed by LW the Style Guy from California on Friday, March 29, 2013

Very nice dark purple. I have it in navy and black too, all very stylish and just the right length.

Reviewed by Olga K from Moscow, RUSSIA on Saturday, February 23, 2013

Wonderful scarf made of 100% cashmere. Excellent quality. Soft, warm, very comfy. I loved it so much, I have just ordered another one in a different color. My request to Sierra Trading Post: PLEASE Keep bringing more of these wonderful Scottish cashmere scarves and socks!We love them!

Verified Buyer

Reviewed by Saluki from Indiana on Saturday, February 2, 2013

I ordered this scarf to go with a camel hair coat for a more formal look. The scarf is warm, soft and well made. I would highly recommend it to anyone.

Reviewed by Comox Book Lover from Comox, BC on Monday, January 21, 2013

A soft, lovely scarf. Perfect for a cold, damp day or evening out.

Reviewed by Reds from Philadelphia, Pa on Friday, January 11, 2013

This review updates our Dec. 2012 review where we got the same looking scarf of 100% lambswool, as stated on label, instead of cashmere. The replacement scarf made from cashmere was very nice and felt noticeably softer than the lambswool even if the look was almost the same as the lambswool scarf.

Verified Buyer

Reviewed by Cleo from Washington DC area on Thursday, January 3, 2013

For cashmere, I would have expected softer. Since it is new, how well it will wear is unknown. Will it pill? Will it get matted and misshapen?