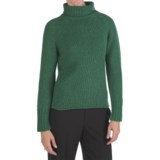 Closeouts. Large and lavish yarns give this indulgent cashmere sweater from Johnstons of Elgin a texture that begs swooning over, dyed in rich colors and styled with a chunky roll collar.
Average Rating based on
9
reviews
4.444444
0
5
Verified Buyer

Reviewed by Sweater Wearer from Rhode Island on Sunday, March 1, 2015

I bought two of these sweaters. Both are very soft, very thick and very warm cashmere. Both are very slightly short in the arms for me, which isn't a deal breaker but isn't ideal either. I bought the Moss and the Heath colors. The Moss seemed darker in person than on my screen and is a very rich and vibrant color. The Heath seemed lighter in person than on my screen, and is a vapid and unappealing color. It's too much hassle to send back, and I'm worried that the other color in my size might not be available if I do, so I'm dealing with it by accessorizing with colorful scarves. Overall, a great deal for a very high quality cashmere.

Reviewed by Dandy like a Dandelion from Texas on Sunday, February 22, 2015

I bought first of these sweaters back in 2012. I'm very happy to see them being brought back by Sierra for the 2014-15 winter season. The sleeves in the new edition seem to be longer than the ones from the few years ago. Yet, I still wear these sweaters with bracelets, not because I need to cover up the shortness of the sleeves but, now, because I like wearing them with bracelets. Other aspects of this sweater remained the same: cropped in a body with a lower-than-typical turtleneck. There are two colors this season which seem to please me the most: zinc/gray and sand/beige. The sand color is the best in my opinion; it is subdued beige resembling camel but less yellow which allows me - taupe blonde hair, blue eyes and a fairs complexion – enjoy wearing it. Of course, knowing that the best designer houses: Chanel, Hermes, etc. often times buy their yarn from Johnstons of Elgin and always, always offer a variety of beige sweats made me only pause and exclaim: "How much does it cost at Sierra? I want them all!" Just kidding. In regards to care, I always refer to the directions provided by JofE: I have my sweaters hand-washed in a delicate detergent and lied flat to dry; the yarn blooms (i.e. opens up and becomes fluffy, and even softer) afterwards. This sweater has become my all-time favourite. Sierra – thank you so much!

Reviewed by bouldergardengal from Portland, Oregon on Saturday, November 22, 2014

I wanted to love this expensive sweater and a the body is wonderful, especially if you have a shorter torso and arms, but the turtle neck was slightly itchy for me and at this price i want it to feel like a dream. It is beautifully made and heavy weight and if you aren't sensitive to wools you'd love it.

Reviewed by Cashmere lover from Crystal Lake, IL on Sunday, October 19, 2014

Be advised that the Rhubarb color is really more of a raspberry color, so this sweater is going back. If the color was more on the red side, I definitely would have kept it as it is very high quality and fit me perfectly.

Reviewed by MAG from Mexico on Saturday, August 24, 2013

Cashmere is soft. Sweater is light. BUT sleeves are too short. I am 5'4" tall and weigh 126 pounds and it seems that the sweater is missing 1.5 inches to cover the entire length of my arm. I also bought the Johnstons of Elgin Classic Cashmere Turtleneck Sweater in small, and that fitted well.

Verified Buyer

Reviewed by Joyce the Voice from Kirkland, WA on Wednesday, December 26, 2012

I bought this sweater first in the green color and it's the lushest, chunkiest cashmere sweater I've ever tried on. So I bought it in the red color, which looks a little orangy in the photo but is a true red. It's fantastic.

Verified Buyer

Reviewed by Joyce the Voice from Seattle, WA on Thursday, December 20, 2012

This is one great sweater. It's made of 21-ply cashmere (most of the sweaters I see in stores are just 2-ply). Great colors, great fit, it looks amazing with jeans, winter skirts, and under any type of jacket.

Reviewed by Gata from San Diego, CA on Saturday, November 17, 2012

I bought one of these in Cotton, size M. I got it yesterday, and it is soft and very nicely made. The color is a nice subdued light beige, and the cashmere is thick (it is roughly the same weight as the hoody also for sale in STP, of which I own a few, and which I found out to be a 10-ply yarn). Despite the thickness, the sweater is very light and comfortable to wear. The turtleneck is too short to wear folded over, but looks stylish standing up. The only issue is that the sleeves are too short. I agree with the previous reviewer that a size S is petite. I'm 5ft7' 116 lb and a size M was a good fit for me (if it wasn't for the short sleeve issue).

Reviewed by Dandy like a Dandelion from New York on Monday, November 12, 2012

Depending on the color, I'd give this sweater 4 or 5 stars. The reason is that some of these sweaters are softer than the others – my guess is that it has something to do with the dye JofE used here. I love the color as well as the softness of the ivory sweater – it gets my 5 stars. The sweaters in ebony and cotton got my 4 stars and, subsequently, got shipped back (but, with all fairness, the concept of scarcity of limited resources had more to do with it – I cannot afford having everything). Worth mentioning is the fit aspect: size small fits more like a petite small; the torso is shorter (I like that) but so are the sleeves (for me this means wearing a sweater with a bracelet to cover for that inch I'm missing); but here, too, was a variation in the length - some sweaters had shorter sleeves than did others. And last but not least, this sweater's style is somewhat casual; then, most sweaters are casual.