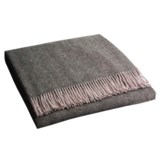 Overstock yarn. Inspired by the Bothy blankets of North East Scotland, Johnstons of Elgin wonderfully recreates the same luxurious, homespun warmth in this one-of-a-kind throw with a blend of Scotland's finest cashmere and lambswool yarns.
Average Rating based on
180
reviews
4.738888
0
5
Reviewed by The Merino Marauder from Brooklyn on Monday, February 24, 2014

The wifey loves it because it's so soft. It's not quite as warm as our 100% lambswool throw, but it's so much softer. I ended up getting another one for my mom, who loves it as well. It's a luxurious item. Treat yourself!

Reviewed by Joanne of Asheville from North Carolina on Saturday, December 7, 2013

This throw is truly soft and full, not at all thin, obviously well-made and if treated with respect should last a long time. It's just right to snuggle down with for a nap!

Reviewed by The Outlawyer from SW Va on Friday, November 29, 2013

fabric is luxurious, weave is just right. And the hand. Oh. The hand! It's pretty wonderful

Reviewed by charlieo from Long Island, NY on Monday, November 11, 2013

The tag refers to this nas a 'rug', maybe that's a Scottish term for 'throw'?
Regardless, it seems to be a very nice blanket.
Not luxuriously soft, but nicer than most wool blankets.
The blue is much more muted than pictured, which is good, and the throw is larger than expected.
If I don't find moth-holes in this in the next few years, I'll see this as a good purchase.

Reviewed by waverlywaver from vermont on Wednesday, October 30, 2013

it's pretty much as described. not too scratchy, not soft either--but okay. got it for my father. he likes it alot. i was disappointed that the pattern of the weave was not really as pictured--the herringbone look in the picture? not apparent in the brown color we got. it looks more like a solid. maybe other colors actually look herringbone, but not this one. but it goes with his sofa okay anyway.
it arrived in a clear plastic bag, in good shape.

Reviewed by Becky from Chicago on Wednesday, October 16, 2013

Bought some of these a few years ago. Bought the blue and brown now, and just want to note that they don't quite match the earlier ones. I am fine with it, not too far off to matter (the weft is tan in the old ones and grey in the new ones). Very warm. We each have our own on the bed so that we can toss them off or put them on independently of each other. And we each have one on the couch, so no competing for coverage!
They make a nice gift.


Reviewed by Cozy customer from Seattle, WA on Wednesday, October 16, 2013

First bought this throw a couple of years ago to keep cozy while watching videos. It is lofty, light, soft (yet not delicate) and incredibly warm! It quickly became our favorite and my husband and I would race to be the first to grab it. Saw it available again and bought a second one immediately to surprise my husband on Christmas. A present I know for sure he will love!

Reviewed by pdiddy from Vermont on Monday, October 14, 2013

Not heavy, and not as soft as I expected with 50% cashmere, but very good looking. I got the brown, which is a pleasant neutral color. Just right for the couch or a bed to nap under....

Reviewed by rchrrd from VT on Wednesday, October 9, 2013

Not quite as soft as a baby bunny, but hey.

Reviewed by Caligirl from NYC on Wednesday, October 9, 2013

A little piece of very affordable luxury... It is soft, light and warm. I ordered the blue, which is not as vibrant a color as in the photo, and is in a herringbone pattern interspersed with grey. I like the color; muted, mellow and inviting. It is only 50% cashmere so it still doesn't feel like a full cashmere blanket but it is wonderful and very high quality. For the price I paid I consider it an absolute steal. Don't even hesitate. I will be buying more for family and friends.