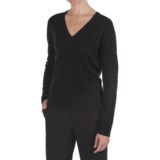 Closeouts The higher the gauge, the finer the yarn, the softer and lighter the sweater. Apply that logic to Johnstons of Elgin's classic cashmere V-neck -- knit from superfine 2- gauge yarns -- and you have a blissfully soft sweater you can wear in almost any season.
Average Rating based on
25
reviews
4.160000
0
5
Verified Buyer

Reviewed by morning from ohio on Thursday, February 4, 2016

This is a very soft sweater and the cashmere feels wonderful on the skin. I purchased the sweater in XL. I usually wear medium or large in other brands, but I always order up in Johnston's of Elgins' sweaters. I purchased the crimson color which is a beautiful reddish pinkish color. It should brighten up a dull grey winter day. The arms of the sweater are a little tight, so I hope the sweater does not shrink.


Reviewed by AMH108 from Iowa on Sunday, November 29, 2015

I've been buying the cable knit V-neck for several years Looks like STP hasn't restocked them so I got this one. I'm very sensitive to wool and have appreciated the softness of the cable knits. This one disappoints. You might not notice if this were your first JofE but I am used to buttery soft. This one has a rougher feeling to it. I'll have to wear something under it, in order to be comfortable. I like the color (Turquoise is really Teal) and am keeping it altho I usually get S, only M was left and it is a little bit too big, especially the v-neck is not ideal for me. Again, probably will require an underlayer and a scarf. But since it was all that is left, what to do? Since STP changed owners, quality and product choice are slipping. Too bad, I've been a customer for over 20 yrs. Shipping charges too. Used to be able to return/exchange for free.

Verified Buyer

Reviewed by Retired doc from New Hampshire on Wednesday, March 11, 2015

If you want a very high quality cashmere sweater that will last for years if well cared for this it the one to buy. The construction is superb and the feel of the fabric ... well let's just say it is as sensual like a caress. If your size is not immediately available just keep returning because the stock is refreshed often. There is even an option to be notified by email when that happens. Treat yourself royally and get one. You will not be disappointed.

Verified Buyer

Reviewed by Kino from Colorado on Friday, January 9, 2015

This is my 6th sweater from Johnstons - all being Christmas presents so my spouse knows exactly what I like! These sweaters are as soft as they claim, and they are accurately described.

Verified Buyer

Reviewed by Donomom from Ohio on Sunday, December 28, 2014

This is the second one I have bought, and it is just as wonderful as the first! Sizes run small, I wear a USMedium, bought this in a large. The fit has a nice shaping to it.

Verified Buyer

Reviewed by Donomom from Ohio on Sunday, December 28, 2014

This is the second one I have bought, and it is just as wonderful as the first! Sizes run small, I wear a USMedium, bought this in a large. The fit has a nice shaping to it.

Verified Buyer

Reviewed by Tennis Lady from South carolina on Friday, December 19, 2014

I love cashmere sweaters. Living in the south I don't need extremely heavy warm clothing so I thought the description of these sweaters sounded perfect. I ordered two v necks in different colors. Both are going back. I usually wear either a small or medium depending on the style. I ordered a medium and it was very snug in the arms as well as the body. I have never had a problem with arms being too small before. They are also on the shorter side length wise which I was ok with because the really long tops are not flattering on me anyway. But the biggest negative was the feel of the yarn itself. It was not soft like most cashmere I've had. It felt a little rough almost like it was a blend with a coarser wool. Mine are going back. Too much money for this level of quality.

Verified Buyer

Reviewed by nodnyc from New York CIty on Saturday, September 27, 2014

Ordered in the Sapphire and Emerald and I love both colors. It isn't a heavy sweater, but it will keep me warm in the winter months of NYC.
I think they run small...I ordered my typical size Large and it felt too constricted. I decided to try the next size up, and it's more comfortable.


Reviewed by Sally from Englewood, CO on Tuesday, April 8, 2014

Beautiful sweater that fits very well but the actual color doesn't come close to the website picture. The sweater is definitely blue with a heathery undertone. I got it today and haven't yet decided whether I'm going to send it back because it is high quality.

Reviewed by Dandy like a Dandelion from New York on Tuesday, April 1, 2014

I bought these V-neck sweaters for the first time in autumn of 2012. I got them in navy blue and black. Since then they became my most favourite sweaters of all (and I have "a few" to choose from). I follow strictly the provided along by JofE washing instructions and these sweaters only got better with time and with each wash: the yarn blooms (i.e. it opened up and became fluffier and softer), retains its colour and the sweaters have not lost their shape. They pair very well with silk scarves, or a necklace – they are very versatile: dress them up, dress them down.
But please note: these sweaters are made of thin yarn, they are on a thin side and they are not for -20F winters; they are great for spring and autumn, or for summer over-air-conditioned "chilly Willies" like me.
When these sweaters in new colors got posted this spring, I just couldn't object to getting a few. Prior to receiving them, I was already planning which sweater would go with which scarf, and what not. And then there was the: "WOOPS." The colours turned out to be quite different than they seemed to be; harebell and eau de Nil in particular. The actual colours are much softer, more pastel, washed off, and there is a hint of heather(ing) to them. They are still very nice (but an orange scarf I so much wanted to wear with the harebell blue sweater won't do it now). There was also a very nice surprise: the sand color looks to me superb; so much so, that I ordered a JofE cardigan in that colour too. I took a photo hoping to show the actual colours more accurately... then there is always a matter of our monitors being properly calibrated for colour.
Regarding the size, I find them to be accurate; there is only a minute difference between XS and S, and that seems to be only in the tapering of a waistline (I'm 33"-25"-35" in chest-waist-hips and I favour XS). I don't know how the larger sizes compare but these sweaters, being made in Europe, might have likely been made to fit a traditional sizing (and I trust that other shoppers will post their review offering help on that).
It truly is my most favourite sweater of all and I highly recommend it.