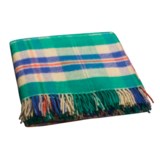 Closeouts. Take your Johnstons of Elgin throw blanket of supersoft lambswool anywhere -- a football game, a fall picnic in the park or on road trips.
Average Rating based on
266
reviews
4.770676
0
5
Reviewed by flew the coop from ky on Sunday, February 16, 2014

This blanket is very warm and light weight at the same time. If you can get it at a low sale price buy several. They are quite expensive elsewhere.

Reviewed by frankie from Murrieta, Ca on Friday, February 14, 2014

Gorgeous colors, soft, and large enough for my tall husband to snuggle up to.

Reviewed by Indi from Indiana on Monday, February 10, 2014

this throw/blanket is generously sized, a bautiful plaid (pink and gold, not the color shown) and a very nice quality wool. lightweight but perfect for cozy reading or an evening of home entertainment. also makes a nice light toss over bedding for very cold nights.

Reviewed by Tom from Memphis on Friday, February 7, 2014

I first ordered this blanket around a year or so ago, and it has worn well, is quite warm, beautiful, and distinctive. In fact, I liked it so much that I ordered several more as gifts this past month or so. This is a quality blanket (the Scots label it a "Rug"), and the quality yarn is soft and the colors vibrant yet muted at the same time. It is warm, and barely covers one large person (but two could snuggle closely under it up to a point). I would highly recommend this blanket, but wish they offered it in a larger size.

However, I must state I'm a bit disappointed on my latest blanket order from Sierra (order # E18852129). As I mentioned, I have ordered several of these blankets in the past month (I have presented them as gifts to friends). In this latest order, one of the blankets (the Navy one) had no plastic covering (like the others) and it appears to have been refolded and it appeared ruffled (and possibly soiled) with the tags just lying loose in the box. I suspect it was a return that was sold or something happened at the warehouse. I communicated the problem with one of the blankets via an email to Sierra Customer Service (in response to their email to me about the order being delivered), and never received a response. In any event, I cleaned it up, wrapped and presented it as a gift that was much appreciated. But I was both surprised and disappointed that Sierra didn't at least respond to my email, as I have been a good customer of theirs for several years.


Reviewed by VanessaM from Colorado on Thursday, February 6, 2014

Ordered this and loved it so much that I ordered more and now have purchased four total for myself and gifts! All four purchases were the pink/hot pink color and they are stunning. The colors are exactly as they appeared in the photo - fabulous in person.

Reviewed by Janice Amelia from New jersey on Monday, January 27, 2014

My daughter had bought two of these & I loved hers so much I ordered two myself. These are so soft, they actually FEEL LIKE CASHMERE. They are also a good weight. With good quality wool you don't need a heavy weight to keep warm. I ordered the hot pink one. It is gorgeous. It doesn't go with my colors but it goes with my "Girly side". It makes me feel happy every time I use it. Definitely recommend these, you will not be disappointed!

Reviewed by sam from Maryland on Friday, January 17, 2014

Very nice at any price. Thick and soft, larger than expected. A real bargain on sale.

Reviewed by salray from washington on Saturday, January 11, 2014

We really like this colorful throw blanket. It is soft and the colors are wonderful.

Reviewed by Rochesterkitty from Texas on Friday, January 10, 2014

I loved these so much I bought a few for gifts. Great colors and the quality is fab. Absolutely a must buy if you need a throw....they are a little pricey even on sale,but worth every penny

Reviewed by Earthwoman from Chicago surburb on Monday, January 6, 2014

I've bought these utility rug blankets before (5 of them!) and have given them the highest rating, so I thought a 100% lambswool utility rug would be a great gift. However, the latest version is noticeably thinner and lighter than the same blankets I bought just a couple of years ago. These are still nice blankets, but it doesn't seem right to use the same rave reviews for what is clearly a lesser product. The colors are also now brighter and more "contrasty" than they used to be. Muted was better. Heavier was better.

P.S. I agree that these utility rugs are washable. Just hand wash or use the delicate setting on your machine, in cold water, and air dry (no heat).