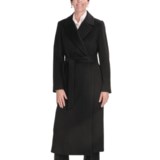 Closeouts. The elegantly simple construction of this Jonathan Michael coat means nothing will detract from the lush hand of the fabric, an irresistibly soft blend of fine merino wool and cashmere.
Average Rating based on
9
reviews
4.444444
0
5
Reviewed by Nataleo from Portugal on Saturday, January 25, 2014

Hello !
I am Natalia Dobavkina from Lisbon .
I wait 2 packages . I didn't receive it yet :
1 package - 03/01/2014 in Porto Portugal ,
2 package - 15/01/2014 in Porto Portugal , today in Lisbon with not correct facture .
UPS Portugal is not honest service . I have communication from 08/01/2014 and asked to send me e-mail with correct documents for pay the tax . It is without results . I lost my time : I had 2 consultation in airport and another . On the Monday I go to Tax Finances organisation . It is corruption . Today I have problem. 30.01.2014 is my birthday . I will 53 years old . I never on my life pay corruption .
Second package is in Porto yet (I paid 31.12.2013 ) . UPS Portugal didn't send me document for payment .
I want to pay tax correct and receive my things .
After I will writer the feedback .
Thank you for your attention .

Reviewed by Fancy Nancy from Illinois on Sunday, December 15, 2013

This coat is well made and it feels soft. However, every piece of lint or hair is attracted to it…like static. I was very careful to try it on in a room in my house with little lint. Yet, lint got all over it anyway. I had to brush it to remove it so I could return the coat as it was too big on me. If you are very clean and don't have any pets, this could be a lovely coat. Also, the shoulders ran a little big on me, but, itt might not do that on you. There's plenty of wrap room in this coat which is nice. If you've had other black coats, you will like this coat. I usually wear a JM camel hair coat which probably suits my lifestyle better.

\

Verified Buyer

Reviewed by Lola Looker from St. Louis, MO on Monday, March 5, 2012

You can't beat the versatility of this wrap coat. The style means you can go either sleek or bulky underneath. It also mean not feeling restricted while behind the wheel. There is no bulkiness to the coat making you feel ever so good about your appearance. I do believe I 've f ound. y forever favorite coat!

Best Uses: Anywhere anytime, There are no cons here
Pros: Always appropriate, Classic yet stylish, Dress up dress down, Luxurious yet affordable, Raffish yet sophisticate

Verified Buyer

Reviewed by Lorie from Anchorage, Alaska on Saturday, December 10, 2011

This coat can be worn for daytime or dressy occassions. Beautiful feel and drape. Beleive it will wear well and last many years.

Best Uses: Works for daytime or PM
Cons: none
Pros: Cashmere content soft, I'm 5'4

Verified Buyer

Reviewed by Audrey from Missouri on Friday, November 4, 2011

Item will be a primary grab and go coat. Warm and light.

Best Uses: Any winter activity
Pros: Fabric light and soft

Verified Buyer

Reviewed by Reenie Renk from Milwaukee, WI on Thursday, November 3, 2011

I wear the coat for all occasions: work, church, and special events.

Pros: Coat is very warm, Coat is well constructed

Verified Buyer

Reviewed by DKN from North Babylon, NY on Tuesday, October 11, 2011

Unfortunately, I had to return the coat because it did not suit my body type. It helps to have a waistline.

Best Uses: Evening, Work
Cons: none
Pros: Excellent quality, Good Looking, Well Made

Verified Buyer

Reviewed by GaelleS from Garden City, NY on Monday, October 10, 2011

This is a very elegant looking coat that is lightweight and soft to the touch. However, after 1/2 hour of wear, the fabric was already pilling under the arms. Cashmere/merino blend fabric should be more durable.

Best Uses: Dress or business wear
Cons: Not very warm, pills easily
Pros: Attractive styling, Great length, Light Weight

Verified Buyer

Reviewed by Judy from sunny southwest on Tuesday, September 27, 2011

Generous, relaxed fit; I ordered down one size. The fabric is luxurious and the coat is very well made. Nice lining. No inside pockets, but it's a dress coat so I wasn't surprised. Good proportions for me in sleeve length, shoulders and overall length. No buttons, which I think makes it look great.