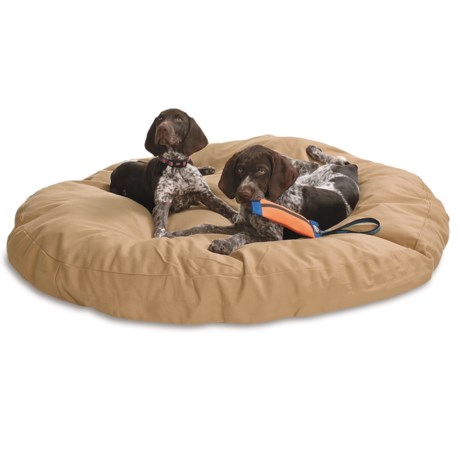 I have only had to washy cover. I have laid The bad part out in the sun just to air out. I have the large bed and the medium. bed because I have a Great Pyramese and an Australian Shepherd. You will not make a mistake with the beds.

Just the cover. The inside bedding material is contained within a very thin non-washable cover.

Cover only

The cover, definitely. I, personally, wouldn't try washing the inside. Our Wiemaraner has torn the inside pillow cover (s) just by scratching before she lays down, so I would be shocked it would hold up to even a commercial front loader. Also, the stuffing in these things tends to clump up just from Macy trying to 'fluff' it (pawing at it to make it more comfortable). The newer ones covers are made of material more like synthetic and less like the old gauze-like material, but I would think washing the pillow would be a real bad idea, unless you can replace the fill material. That would required ripping a seam and sewing it back together, though.

Only the cover can be machine washed.

Just the cover but it washes great.

I would not put the whole thing in my personal washing machine but it looks like it would stand up to machine washing. The cover comes off for an easy wash. I have another bed I got at Orvis and it did not have a removable cover and I take the whole cushion to a triple load machine at the laundry mat and it washes up great.