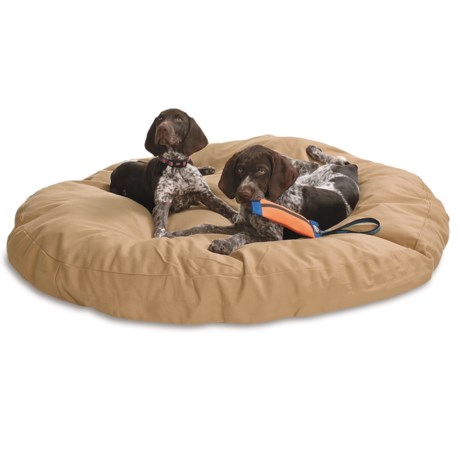 Great for any large to x-large dog
Verified Buyer
Reviewed by Mom2Kids&K9s from Rochester, NY on Saturday, January 7, 2012
I bought this bed in both the green and brown color in July. Both arrived together but in different boxes. In 1 (big box) the bed was already puffed out, but the cover was still wrapped. The other one (medium box) arrived with the bed still compressed and cover also still wrapped. Sierra sent the right sizes, but initially I was worried.

Durability:
Both of these beds and their covers have been great. I expect them to last years. We have used them inside the house, on the screened porch, at the kennel for boarding and also in our Honda Pilot. The brown and green are great colors for dirt, mud and snow/salty paws. We have washing them several times in our large front loader and they have washed with no issues. I do wash them as a whole bed and don't remove the cover; but it is a tight fit. If you don't have access to a very large washer then I suggest purchasing a zip plastic twin matress cover (cheap at any store that sells sheets) and putting the filling bag (typical tight mesh cotton type)in this before putting the cover on. Then just wash the cover and wipe down the plastic if needed.

This is a great thing to do if you have a dog that leak urine, vomits or has surgical drainage and you want to keep the inner bed filling nice.

Sizing:
These beds are huge. One of them takes up 90% of the back cargo area of the Pilot for reference. We have a 12 yo English Blk Labrador (85 lbs-solid and blocky)and an 8yo Anatolian Shepherd (105 lbs-long and lean) and both have no issues fitting on either one. My 3yo son actually lays on them with our Lab and they both have ample room and are comfortable.

Filling:
The filling amount is very good. For the price, amazing. It puffs right back up after washing and stays that way for a long time. From the picture you can see the cover is not a tight fit on the filling so you could add extra if you needed extra support.

In October we did add twin size memory foam (cut in half and stacked) to the middle of one to give our Lab extra support following ACL surgery and lengthy crate rest. He loves his bed even more and the cover looks great even after washing it many times to keep it clean for him. I highly recommend using this bed to make-your-own orthopedic bed verses buying a several hundred dollar large or giant ortho bed. We were able to create one for less then a hundred bucks (memory foam was on clearance).

Only complaint-Choice of bed colors:
Both the green and brown are great as mentioned above for a neutral choice. My only complaint is that there isn't a more feminine choice for lady dog owners and their big girl dogs. Even the large and in charge girl doggies like some style and color while they hang out or nap.
Best Uses: Indoors, Large Pets, Screened in porch, Travel
Cons: Need large washer to wash
Describe Yourself: Long-time Pet Owner
Pros: Comfortable For Pet, Easy To Clean, Easy to wash, Long Lasting, Neutral colors, Very durable
Similar items and more information in the following areas: