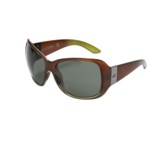 Closeouts. Optical clarity and fashionable sophistication combine in Kaenon's Leila polarized sunglasses. Oversized polarized lenses reduce glare, and comfortable pads are built into the nose-bridge of the frame.
Average Rating based on
112
reviews
4.223214
0
5
Reviewed by Jesus from El Paso on Thursday, March 27, 2014

Awesome lenses clarity, polarization (plenty uniform as glass, really) and lightweight too. Feels very comfortable (I wear to test, Im man, I specially hate pressure points in the nose or ears, but I didnt feel anything, all ok) and the build is enought strong. I bought this as a gift to my mother, she likes specially to cover the eyebrows when wearing sunglasses, and they did, BUT... is very oversized, specially in the external up corner of the frames, they looks so far of the head.

So, If your face is big (I dont want to offense girls, just saying) or you like fancy gigant sunglasses, this if for you. If not, maybe you will be disappointed about the fit. The quality of the product, is unquestionable very very well made, but as women, the fashion look and design of the sunglasses generally is the most important point =)

Maybe returning, she decides

Reviewed by Carolina Girl from Charleston , SC on Tuesday, December 31, 2013

These glasses are huge. There were way too big for my face or anyone's face for that matter.
I had to return

Reviewed by Cyndielp from Reno, NV on Thursday, December 26, 2013

I have not found a better pair of glasses for on the water!! If you are into boating, sailing or landsailing... BEST GLASSES EVER!!!!

Reviewed by RozS from California on Thursday, December 26, 2013

I lost my sunglasses while Christmas shopping and was so relieved to find that they were still available here. It's a little scary they're discontinued but at least now I have another pair to hold onto!

Reviewed by Nurit the artist from Cupertino, CA on Friday, August 23, 2013

great coverage and protaction.

what a difreance from those fhshion (even the "good"ones) brands

they are humongous, just the way I want them

Reviewed by che avy'a from Wisconsin on Thursday, August 1, 2013

These are great quality sunglasses but they were far too large for my face.

Reviewed by Naampueng from Colorado on Friday, July 5, 2013

When I first received these sunglasses, I was blown away by the clarity of the lens, which was also the perfect shade of rosy brown. They were large but comfortable, and I received several compliments. Fast forward two years. I take excellent care of my shades, making sure the lens is free of debris before polishing, and always casing them when I'm not using. Which is why I was so surprised when I donned them one day and it looked like I hadn't just cleaned them. Which I had. Upon careful inspection I realized the lenses were beginning to delaminate, leaving little waves across the surface of the lens. My heart sank. If I'm going to spend the price Kaenon demands for their sunglasses, I expect them to last longer than two years. And of course, the warranty is good for only one. Maybe I got a lemon? I don't know, perhaps. But I'm not risking it again with this brand. Total bummer as I was sure I had found my new sunglasses soul mate.

Reviewed by Outdoor Mom from Wyoming on Monday, July 1, 2013

High quality sunglasses at a GREAT price! They are large framed, which I love. The polarized lens clarity is excellent and the frames are stylish.

Reviewed by Jenn from Florida on Friday, June 28, 2013

Loves them, but the frame is very large and too big for my face.
Kaenon is amazing ~ the lens technology is everything going to be.

Reviewed by gramnmam from Tennessee on Friday, June 21, 2013

Luv the glasses. They are huge so won't work for someone with small face.