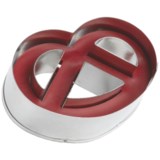 Closeouts. Designed with a spring action knob for perfect shapes every time you press it into the dough, this Kaiser Linzer cookie cutter is a must-have during cookie-baking season.
Average Rating based on
15
reviews
2.933333
0
5
Verified Buyer

Reviewed by Rosebud from Montana on Saturday, May 30, 2015

I haven't used it yet. I was a little disappointed that the cookie cutter was so small. My mother is from Austria and she made these cookies all the time. But I might like the small on better once I use. The Linzer cookie test will tell!

Reviewed by aligaterr from Virginia on Thursday, February 19, 2015

Not much more to say...broke after the second time I used it. I think I've kept the cutter part to use but basically just a piece of junk.

Verified Buyer

Reviewed by Juli of the Bitterroots from Wyoming on Wednesday, December 31, 2014

Won't be able to use these for next year's Christmas cookies :-(

Verified Buyer

Reviewed by Rina from washington on Tuesday, August 12, 2014

I use it to make Christmas Linzer cookies. I like the way it can separate to form the cookies and clean; and then reassemble to store.

Verified Buyer

Reviewed by Jan from Palm Coast on Monday, May 12, 2014

The picture makes this look as if its a normal size but don't be deceived, its only an inch.

Reviewed by SLY from Atlanta on Thursday, April 3, 2014

This is the worst Donut and Cookie Cutter on earth, 1 too small, won't fit my hands. Just too little for me, How much Donut or Cookie can I make with that little thing.

Reviewed by g from The armpit of America on Monday, March 24, 2014

Holy Cannoli....I didn't look at the measurments (stupidly) before I bought this. It's like...not even one inch wide!! If I were to m ake cookies this big, I would be baking for a week!!! A week!!! I'm having a garage sale soon and this will be on the dollar table. Also...not sure how in the world you would successfully clean it. No thanks.

Reviewed by sierra shopper from central NY on Friday, January 17, 2014

I haven't tried it yet. I got the pretzel and it's cute and dainty. I think it will make nice petite butter cookies that I will sprinkle with coarse sugar so they resemble salted pretzels. Another reviewer is correct, though, these won't actually work to make traditional jam-filled Linzer cookies because you would need a solid cookie with no cut-out for the bottom layer. With the moving parts, I'm also wondering if it will be difficult to clean.

Reviewed by stork RNC from NC on Saturday, January 4, 2014

tiny bite sized cookies

Reviewed by mom from NJ on Wednesday, January 1, 2014

decent for top cookie but no way to cut without cutout - what's the point?