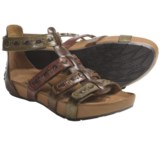 Closeouts. An embellished and earthy leather upper is paired with self-molding BioFoam® cushioning to inject Kalso Earth's Empire sandals with bohemian-goddess style and unbeatable comfort.
Average Rating based on
16
reviews
4.750000
0
5
Reviewed by Polly Prissypants from Jacksonville, FL on Tuesday, December 24, 2013

After looking at these sandals for months, flipping between Sierra Trading Post and Amazon images to decide whether they were funny looking or cute, I ordered them--oh so glad I did. Based on other reviews, I ordered down 1/2 size. They're extremely comfortable and fit my foot as if they were custom made. In fact, they feel so good that I don't care whether they're funny looking or cute. I may order another pair to just to have as slippers : )

Reviewed by kitcat from Vermont on Thursday, September 5, 2013

These look really nice with a skirt or dress. I love them. All of the straps adjust for a perfect fit. They fit true to size.

Reviewed by risa from nj on Friday, July 26, 2013

I love these shoes. They totally are adjustable, very comfortable. Many compliments.

Reviewed by Kim from Upstate NY on Wednesday, May 22, 2013

My 20 yr old daughter got these and had not been familiar with the "earth" style of shoe where the heel is slightly lower than the ball of the foot. She loves them, and they are very stylish. All the straps adjust to get a perfect fit. True to size. Very cute!

Reviewed by Paula the desk-sitter from Arizona on Monday, April 22, 2013

These are my second pair of Earth shoes and they work wonders for my back. Sitting at my desk all day is torture for my body (yours too!) so getting a bit more space in my back while walking in these is really therapeutic. This style is prettier than my first pair and stays on better (with more straps). I found the solid leather heels rub blisters at first, but a little moleskin and some time and I'm good to go now. great shoes.

Reviewed by zosmavega from washington on Friday, April 19, 2013

i am very happy with these sandles

Reviewed by adkgirl from Adirondacks, NY on Thursday, April 18, 2013

I've not worn negative heel shoes before so when I first put these on I wasn't sure I would like them, but after wearing them around the house for a few minutes, I fell in love. They have a true arch support, and the rocker bottom takes only a few steps to get accustomed to. They are completely adjustable which is great for my bony feet. I think I will be able to walk in these all day and not have a problem with my plantar fascitis. And they are really cute, and a steal, too! I would have ordered more of these in different colors if they had been available.

Reviewed by Christina from Colorado on Tuesday, April 16, 2013

I have very picky feet and was a little nervous about buying these before trying them on (although I have 3 other pairs of earth shoes that I have loved to death), but they are working out beautifully. They're comfortable, and getting more so all the time as I break them in, and best of all they are gorgeous shoes that I don't have to pay for with foot pain! I don't think they'd be great for long distance walking or hiking (but who knows, maybe as I break them in they will be!) And of course a great deal considering the original $149 price tag. I would definitely recommend them to anyone who loves Earth's negative heel and wants a gorgeous sandal!

Reviewed by Earth Shoe Only Gal from Seattle on Tuesday, April 16, 2013

I was thrilled to see another style, since Earth shoes are the only shoes I wear. These are especially nice since you can adjust each of the straps. They feel a bit stiff, but once the nice weather hits I am sure I will be able to wear them in! My size is always an 8 and sure enough they fit as usual!

Reviewed by Shelly from Ogden, UT on Monday, April 1, 2013

I really liked these sandals because they will go with olive to every shade of brown outfits. I also have long and very narrow feet, and with being able to have so much adjustment is great. They run a little long, so instead of my usual 10, I needed a 9 1/2. I wore them all day and my only complaint was my right heel was a little sore, but I'm sure when the leather gives it will be fine. Very happy!!!